2011 Gift Guide: Holiday Tips From the Paper Dolls
Next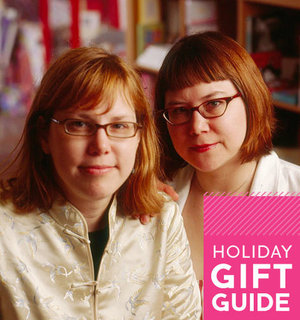 Our latest holiday guide comes from sisters Stacy Swett and Kelly Swett Riordan (shown right), the owners of one of my favorite paper and gift shops, Paper Doll (2027 N. Division St., 773-227-6950).
PopSugar Chicago: What's the one piece of clothing that's a must-have for the holiday season?
Stacy: A faux-fur bonnet-style hat. They make you happy, look adorable, and keep you warm.
Kelly: A warm, cozy scarf. Good for both inside and outside.
PopSugar Chicago: Any Chicago must-dos for the season?
Stacy: Every year it is our tradition to go to the Christkindlmarket at Daley Plaza together. We love all the German goodies.
PopSugar Chicago: Favorite stops for holiday shopping?
Kelly: We try to shop locally and at our own store. We love Rotofugi, Hazel, and Jonathan Adler. Since we work so much during the holiday season, we end up doing some online shopping, too. We love Fab.com, Modcloth.com, and Anthropologie.com.
PopSugar Chicago: Go-to gift this year?
Stacy: Artist-designed calendars by Snow & Graham, Rifle, Jonathan Adler, The Found, and Night Owl from our store.
PopSugar Chicago: Any tips for surviving the season?
Stacy: Lots of wine. And watching the movie Elf.
Kelly: Relaxing in front of the Christmas tree — of course, that involves setting it up first.