4 Unique Workouts in Chicago Offer Climbing, Trapeze, Tennis, and Boxing
Beat Winter Boredom at Four Unique Workout Spots
Next
If you're anything like me, you're feeling some cardio/group fitness class/basic indoor workout boredom these days. Check out one of the four unique exercise options below — from high-flying aerial arts to a butt-kicking studio — to challenge your body and get out of your fitness funk.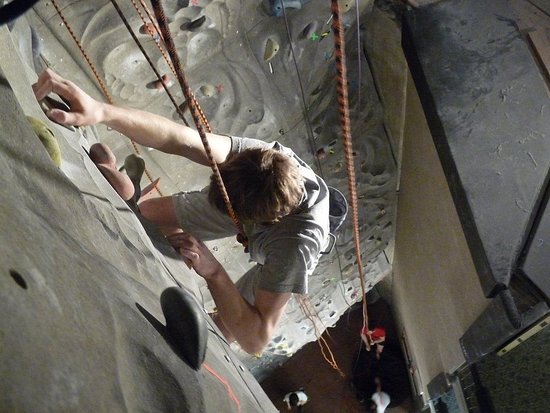 Get vertical at Lakeview Athletic Club's climbing wall (shown above) and bouldering cave (3212 N. Broadway Ave., 773-529-2024), available to members and nonmembers. Both structures are made from Freeform, a hand-shaped surface that looks and feels like real rock. Start with the Complimentary Climb, open to all members and guests who purchase a day pass. You'll receive shoes and a harness and then you'll take to the wall. Open to beginner climbers and experts, the club offers crack climbing, roofs, dihedrals, arêtes, slab and endurance routes — without the fear that you'll end up in a 127 Hours situation.
Pow Mixed Martial Arts (950 W. Washington St., 312-829-7699) has been offering boxing, kickboxing, muay thai, krav maga, and jiu jitsu in the West Loop for almost 10 years. My suggestion: go work out some late-Winter frustration with a boxing class. Pow's classes are geared to all fitness levels and the studio is newcomer friendly — don't be intimidated by the many competitive boxers who also frequent the rings. Pow offers several types of boxing classes (I'd start with Boxing 101), which will cross-train your body and definitely relieve some major stress.
The Aloft Loft (2041 W. Carroll Ave., Suite 306, 773-782-6662) is a teaching, training, and performance space for the aerial and circus arts, but it's also open to newbies looking to have some high-flying fun and build muscle and strength. Classes in trapeze, silks, aerial conditioning, strength and conditioning, and wire are all available as both drop-ins and preregistered sessions. Admit it: you've wanted to try the trapeze ever since you were a little girl — or maybe just since you saw Carrie Bradshaw swinging through the air on Sex and the City.
Surprisingly, Midtown Tennis Club (2020 W. Fullerton Ave.,

773-235-2300)

is about more than just tennis. The club also offers a cafe, cardio room, Pilates classes, and personal training. But I'd recommend going to improve your game. Nonmembers are welcome to sign up for this Spring's Tennis in No Time, Midtown's signature program, which promises to turn beginners into tennis players in just three weeks. Though, if you're as backhand-challenged as I am, I wouldn't expect to be challenging Serena Williams any time soon.
Source: Lakeview Athletic Club, POW, and Midtown Tennis Club