Autrepart Nature in Chicago
Beauty Beat: Travel to France With Autrepart Nature
Next
Two things that I love: great beauty products and France. So when I hear about a place that combines both, I cannot resist. So rather than steal the luscious lavender body butter my boyfriend purchased for my mom as a Mother's Day gift, I had to go check out  Autrepart Nature (2052 N. Halsted St., 773-661-2694) for myself.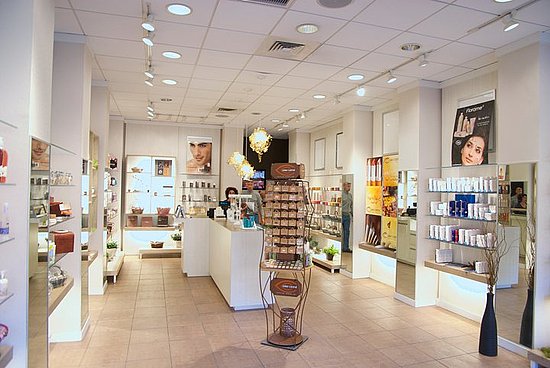 Autrepart Nature reminds me of one of those pharmacies you see in Paris (did I mention I love France?) stocked with shelves full of high-quality beauty prods you'd find in some of the best spas in the world. Autrepart is a family-owned, French company born out of a wife's deal with her husband. "I always wanted to have a cosmetic store, but in France, all of these brands are sold in pharmacies," says owner Julie Sanatine. "One day, my husband woke up and told me he wanted to move to another country and have a new experience. I said I would do it if I could open my own store, and the deal was done."
Not only are all of the products authentically French, but they are natural and/or organic to boot — just look for the cosmebio label. You'll find everything from skin care lines like Caudalie, beautiful soaps from Maison du Savon de Marseille, body products from Florame, and several more; many of which are exclusive to the store. But my favorite happens to be the Autrepart line, because it literally takes you on a journey through different regions in France, utilizing the indigenous ingredients from that area. With my esthetic background, I couldn't be more excited. Here's an overview of three different regions, what they are known for, and my favorite take-away from each.
Grasse: Blessed with perfect weather, this heaven on earth is known as the region of the rose. Try the Rose Body Butter ($18). Many perfumers partake of the expensive and exquisite rose oil extracted from the queen of flowers, yet a concentrated, butter formula is a more affordable way to stop and smell the roses.
Provence: It's hard not to think about this region without picturing — and smelling — lush lavender fields. My pick? Lavender Bath Jelly ($15). Known for relaxing the mind  (hence the reason why lavender is used in so many spas), this nourishing bath is soap free and softens the skin with sunflower oil, vitamin E, and lavender essential oil.
The Isles: Exotic, beautiful . . . need I say more? France's south sea region boasts nourishing butters and oils to soften, nourish, and protect your face and body. Whether it's a Windy City Winter or too much time in the Summer sun, AN's Face Cream ($18) contains nourishing olive oil (read: this will not clog your pores), shea butter, and vitamin E.

Source: Autrepart Nature