Bar Toma Chicago
Hot Plate: Tony Mantuano's Bar Toma Opens Today (10 Things to Know!)
Next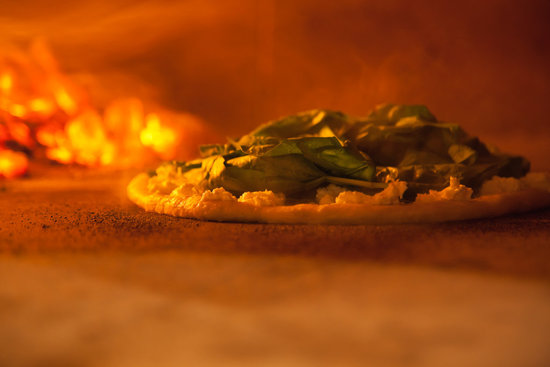 I admit I was a bit bummed when Bistro 110 closed its doors back in August, but after attending a media preview of replacement Bar Toma (110 E. Pearson St., 312-266-3110) yesterday, my sadness evaporated as quickly as the culinary cocktail I was given upon arrival. My only disappointment was that I couldn't keep eating — I was stuffed. While Mantuano touts his latest endeavor to be a "casual neighborhood pizza place," there was certainly a lot of thought put into the concept. Here are 10 things to know before you go:
The 'Za: The wood-burning pizza oven cooks up pies in two minutes flat, resulting in a slightly charred (not burnt) crust. I tried four of the 16, with faves being the Lorenzo (mozzarella, fresh tomatoes, crispy pancetta, fresh basil; $14), clam (littlenecks, garlic, oregano, chilies, pecorinio romano; $16), and the bomba ($15) — which needs further explanation. A pizza "pillow" of sorts, the bomba comes out all puffy and golden, topped with prosciutto and la quercia cheese. The server then cuts the pillow open to release the steam, resulting in a deflated pile of thin dough that you simply tear apart and drizzle with EVOO before going to town. All of the pizza crusts are made from a blend of high gluten bread flour, wheat flour, and a little bit of wheat germ — a concoction that Mantuano says was inspired by an established pizzeria in Rome (though these are not considered Roman-style pies).
Bar Plates: Everything is made with attention to detail, from the orange juice and herb marinated olives stuffed with a bit of orange ($6), to the mortadella with housemade giardinera made from seasonal vegetables ($8), and insalata di mare (cooked to order) tossed in a sambuca vinaigrette ($15). I can't wait to go back and try the grilled marinated lamb and beef skewers.
Roman Style Fritti: Fried to perfection in extra virgin olive oil, one could make a meal off of the little tomato and mozzarella stuffed panzerotti ($6) served in a super cute little wire basket. The Roman-style cod ($15) was not what I expected — but I certainly wasn't disappointed. Not your traditional fish batter, rather a mixture of sesame, poppy, and pumpkin seeds; served with a beer vinegar and lemon caper aioli. Admittedly, I did not go for the sweetbreads with prosciutto and sage ($17), but my dining companions lapped them up.
Mozzarella Bar: Each cheese I tasted was better than the next, but the star of the show was the whole burrata ($27) served wrapped in a poached leek, which Mantuano explained was how the cheese was sold in the old days (today it's sold with a plastic imposter!). The server splits open the cheese and drizzles a little EVOO on top. "The idea is to spoon it right onto the crostino," Mantuano explains.
Salads: Stuffed with carbs, we didn't get into salads, but when I return the Christina (orange supremes, olives, frisee, avocado, smoked garlic, shrimp, hearts of palm, lemon; $18) is on the top of my list.
The Vinegar Connection: "We're looking for ways to add depth of flavor without fat," says Mantuano, who has been using vinegars from master vinegar producer Andrea Bezzecchi of Acetaia San Giacomo in his other endeavors. The vinegars also have a digestive property. "The sour property cleans the palate and cuts off the rich taste in dishes like the fried cod, for example," Bezzecchi explains. The colorful vinegars are displayed in mini carafe-like bottles on the bar, as they are also used in some of the cocktails such as the tomanata ($12), a blend of genever gin, sage, and honey lemonade, finished with a drizzle of vinegar.
Libations: Several of the culinary cocktails like the spritz (spelled spreetz on the menu for us Americanos) are made with housemade bitters, in this case, burnt orange and cranberry with a touch of spice (anise, corriander, clove, star anise), which is displayed on the bar for visual appeal. There are plans to make several more blends such as an espresso made with Illy, Tahitian vanilla beans, and cocoa nibs. Of course, you'll also find plenty of Italian vino that was hand-picked by Tony's wife and resident wine expert.
Gelato: There are 14 different gelatos made in-house each day; perfect as a summertime take-away!
Java Jolt: When you're looking for a coffee experience more European than Starbucks, the espresso bar (Illy is the provider of the beans) opens at 7 a.m., complete with housemade sweets like biscotti, Italian nut cake, and more.
Getting In: Bar Toma does not take resos (unless you have a group of 10 or more), but tonight there's a grand opening celebration and fundraiser for the Green City Market from 6 to 8 p.m. Tickets are $80 and include wine, beer, wood-fired pizza, and more! Bar Toma opening night tickets are available online.
Source: Jeff Kauck for Bar Toma