Barre Workouts in Chicago
Become a Barre Belle!
Next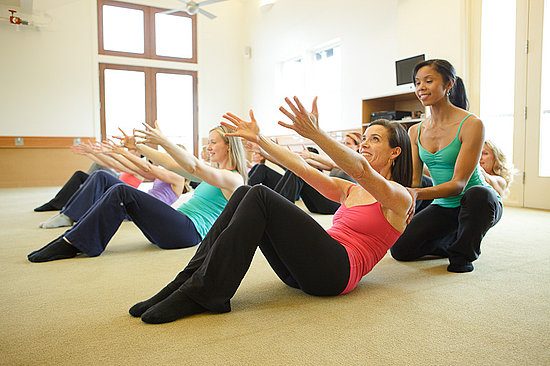 My name is Kate, and I'm addicted to barres — only this kind doesn't come with cocktails, creepy guys asking for your number, or the next-day hangover. I'm talking about Chicago's barre classes, habit-forming, great-for-you, 60-minute workouts that work your entire body through exercises done on a mat and at a ballet barre. Unintimidating yet challenging, barre workouts at the Bar Method, The Dailey Method, Exhale, and Barre Bee Fit — some of the appealing fitness studios in the city — are all designed to create long, lean muscle, improve your core strength, and generally give you that perfect skinny jeans body. One of my favorite parts of these classes (all of which require socks, but not shoes) is the clientele: women of all ages, sizes, and shapes who, in my experience, have always been incredibly friendly and encouraging of one another. You'll reach your fitness goals most quickly by attending at least three classes a week, so don't hestitate to get to one of these barres!
Core Fusion at Exhale (945 N. State St., 312-753-6500). The original barre class, Core Fusion is still going strong at Exhale Spa, even adding sister classes like Core Fusion Cardio, Core Fusion Sport, and Core Fusion Yoga. (As if the original wasn't challenging enough!) Night and weekend classes are usually full, so register in advance, and don't miss classes taught by my favorite instructors, Nicole Uribarri and John Nelson. Both are tough but tender. Classes are $24 each or $170 for a monthly membership.
Barre Bee Fit (435 N. Lasalle Blvd., 312-595-1600). The newest member of the barre pack, Barre Bee Fit is a smaller studio, with one workout space and a reception area. Despite its size, it offers a mighty workout, with regular cardio blasts to keep up your heart rate. Elements of Pilates, dance, and yoga, along with light weights, will truly reshape your body. Single classes are $15, a monthly membership is $125, and new clients can sign up for a one-month unlimited package for $60.
Bar Method (3144 N. Sheffield Ave., 773-935-2150; 180 N. Wacker Dr., 312-332-9150). The Bar Method works your arms, thighs, glutes, and core to make sure every part of you is quivering by the class's end. (Don't worry, after a few sessions, your body will get used to the intensity.) The classes tend to book up, so reserve a space online. A single class is $20, and an unlimited monthly package is $225. New clients can take advantage of an unlimited month for $100.
The Dailey Method (1714 N. Damen Ave. 773-904-8913). Owned by the super-spunky Tami Conway, The Dailey Method includes two studios, a staffed kids' room (babysitting charges are extra), and locker and shower facilities. Conway is an enthusiastic  former dancer who's eager to inspire her students to better fitness (as if her ridiculous post-baby body isn't inspiration enough). While single classes are usually $20, The Dailey Method offers two new-student deals: three classes for $45 and an unlimited month for $100.
Source: The Dailey Method