Beer Gardens Chicago
Pop 5: Your Fave Beer Gardens in the City
Next
Welcome back to the Pop 5, featuring Chicago's best places to do anything and everything. Last week, we told you about your fave al fresco dining destos. This week, keeping with the outdoor theme, we've compiled your favorite beer gardens.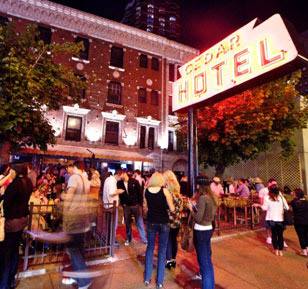 Folks were shocked when Melvin B's closed its doors a couple of years back, but breathed a sigh of relief when The Cedar Hotel (1112 N. State St., 312-944-1112) reopened in its place. It's safe to say this garden is a bit of a pick-up joint, but those looking to grab a casual bite (think Cedar organic wings, Kobe sliders, veggie wrap, fish tacos) while watching the game will feel at home, too. If beer isn't your bag, you can kiss the afternoon goodbye with a 24-oz. "suite" tea: a potent blend of Jeremiah Weed Sweet Tea vodka and lemonade ($14).
The enormous beer garden at The Fireplace Inn (1448 N. Wells St., 312-664-5264) is one of the most popular watering holes on the Wells Street strip — especially come Summer. The space is covered by a retractable canopy, so you can even go in for a pint come in the wintertime. There's ample seating on all four sides of the large bar as well as cocktail tables, a rear dining area with tables more suitable for eating (a boneless rib sammy, perhaps?), and plenty of big-screen televisions for those looking to catch the latest game. It's hard to believe this garden used to be a parking lot!
Also on Wells Street, is the adorable garden at Orso's (1401 N. Wells St., 312-787-6604), one of the oldest restos in Old Town. A perfect date-night spot, the outdoor space features candlelight tables dressed with checkered tablecloths, twinkling Italian lights, foliage, and a commanding vintage-like, dark-wood bar. While they have an impressive menu of apps, salads, soups, pastas, and entrees, our pick is its old-school pizza. No-nonsense — just amazing, high-quality ingreds!
We love how the spacious beer garden at Zella (1983 N. Clybourn Ave., 773-549-2910) reminds us of a friend's backyard barbecue versus a college frat party. Keep this one in mind for the alternative garden experience: weekend brunch from 10:30 a.m. to 3 p.m. For just $20, you get your choice of entree (think smoked gravlax salmon, steak and eggs, omelets) and bottomless mimosas, bloody marys, Miller Lite, and Coors Light bottles.
One of the last authentic German brauhauses in the city, Resi's Bierstube (2034 W. Irving Park Ave., 773-472-1749) is one of the best places in town to grab a hefeweizen. Thanks to the uberauthentic decor on the inside, you can probably find something different to fixate on with each visit. But while the weather is in our favor, the charming beer garden is the place to be. Large maple trees provide a respite from the sun during the day while old-fashioned lanterns create a charming atmosphere at night. Eat your schnitzel (and drink your brew) at one of the picnic or plastic tables and chairs that grace the area. Prost!
Source: The Cedar Hotel