Best Eco-Friendly Stores in Chicago
Green Gear: The Best Eco-Chic Shops in Chicago
Next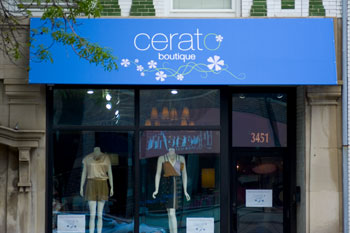 Welcome back to our newest PopSugar City feature. Each week, we'll ask you about your favorite spots in the city — to get great sushi, catch some live music, get a facial . . . basically the places you pick to do anything and everything in Chicago. Last week, we asked you what your fave places in the city were to pick up some stems — the flowers — and the results are in! 
This week, in honor of Earth Month, I'd love to know your favorite eco-friendly shopping destos. I just told you about some of my fave local green designers, such as Lara Miller and Frei Designs, and I love Cerato boutique (pictured, 3451 N. Southport Ave., 773-248-8604 ), but where do you like to go pick up eco-minded goods?
Leave a comment below, tweet me, write on the PopSugar Chicago Facebook wall, or send me a private message, and I'll compile all of your suggestions to create a definitive list. Bring on the eco-friendly shopping suggestions!
Source: Cerato Boutique