Best French Food in the West Loop at Maude's Liquor Bar
Eat This Now! Maude's Liquor Bar
Next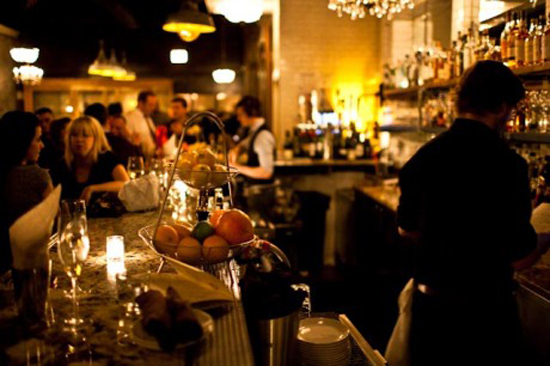 I had my first Maude's Liquor Bar (840 W. Randolph St., 312-243-9712) experience recently, and I was totally, totally blown away. There are those meals you look forward to repeating, and then there are those dining experiences when you walk out of the restaurant in mild shock that food could be that good . . . and Maude's, helmed by genius chef Brendan Sodikoff, is definitely the latter.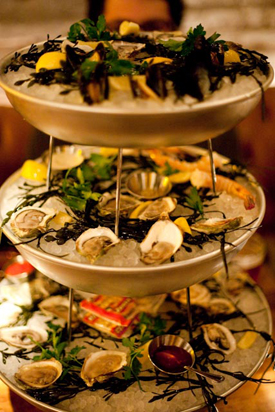 That probably explains why it's almost impossible to get a reservation right now. I made mine, for six people, almost a month in advance. Another reason for the popularity: Maude's Liquor Bar is undoubtedly just cool. While Maude's sexy, French bistro-inspired interior really works for any occasion — drinks, a first date, a girls' dinner, or, my choice, dinner with the parents — I would recommend making your first trip with a group. That way you can taste more of the menu, which is peppered with so many delicious options that it's hard to decide where to begin.
Our choice: cheese (never a bad option). For our party of six, we ordered both the cheese of the day, delice de bourgogne, a pungent but mild tasting triple-cream French cheese that literally melted in my mouth and paired perfectly with its accompanying apple mustard — for all of you Midwestern folk, kind of like a spicier version of an apple butter. But the real winner was the French onion fondue (shown below), caramelized onions and Gruyere cheese, a genius dish that's like a French onion soup without the broth. Both cheese dishes are served with crusty French bread, and had I not forced myself to stop eating, I could have completely filled up on the two glorious cheeses, which we enjoyed along with our charming server's recommendations for some amazing wines and the house specialty drink, the smash, a mix of booze, muddled fruit, sugar, and mint. The Violet smash, Ransom's Old Tom Gin, Crème de Violet, Laphroaig scotch, and bitters, was a favorite.
Next time, I'm going to swap out one of those cheese dishes (it will be a hard choice) with a seafood tower (shown left), an impressive display of raw and cooked seafood deliciousness, including oysters, clams, shrimp, and the recent addition of a cracked lobster. Totally beautiful.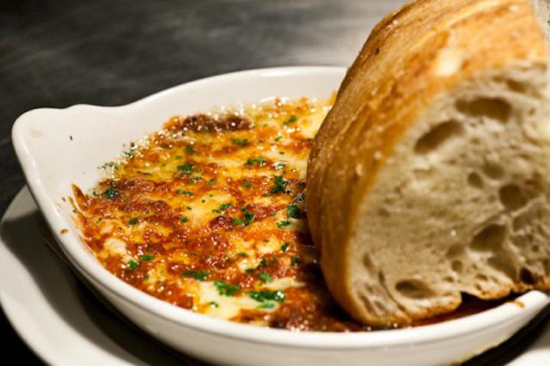 Next we moved on to the main courses, which, by the way, are surprisingly affordable, ranging from around $12 to the low $20s. After all that cheese, which taught us the generosity of Maude's portions, we decided to split three: Maude's steak, a 20-ounce rib eye served with a béarnaise sauce and garlic salt steak; the house-made sausages with lentils and pork jus (both are shown below); and the beef short rib bourguignon with glazed vegetables and red wine jus. Holy meat party! The steak was perfectly cooked at medium, the short rib was beyond tender, and the sausage proved that Maude's is no one-trick cheese pony.

To accompany our mains (like I said, the menu is full of temptation), we went with the blackened Brussels sprouts with lemon and Parmesan (shown below), the pomme frites served with an out-of-this-world garlic aioli, and the potato puree, recommended by our oh-so-knowledgeable server. Let's just say that if I had to choose one potato dish to eat for the rest of my life, it would be this puree, but only if no one ever clued me in on how much cream and butter went into the recipe, which I'm guessing has to be a deadly amount. Regardless, the taste was pure heaven.

After all that decadence, dessert was sounding more like a sin than a necessity, but we were talked into splitting the creme brulee (shown below), which was honestly the best version of the creamy French custard classic that I have ever tasted. Maude's uses a cast-iron creme brulee iron to evenly caramelize the granulated sugar on top, but the custard underneath is cool and unlike anything else I have ever tried. This is what most creme brulees aspire to be, and no matter how much cream, butter, and salt you've ingested in the previous courses, you have got to order it. To satisfy any lingering sweet tooth, our server also brought us some complimentary raw chunks of French dark chocolate, which somehow we managed to devour. I left Maude's feeling wowed, stuffed, and slightly sad: would I have to wait another month for a second reservation?

Source: Maude's Liquor Bar blog