Best Patios in Chicago
The Great Outdoors: 5 Fab Patios and Rooftops to Hit This Summer
Next
We broke 80 degrees in Chicago yesterday, which means we're pretty much going to be outside until the last bistro chair is put away for the Winter. In celebration of the warmer temps, I've rounded up some of the best rooftops and patios in the city. Some are old; some are new. All are perfect for enjoying a frosty cocktail and company among friends. There's no way this can be summed up into one post, so look for more coverage, and feel free to drop me a comment and tell me your favorite spot!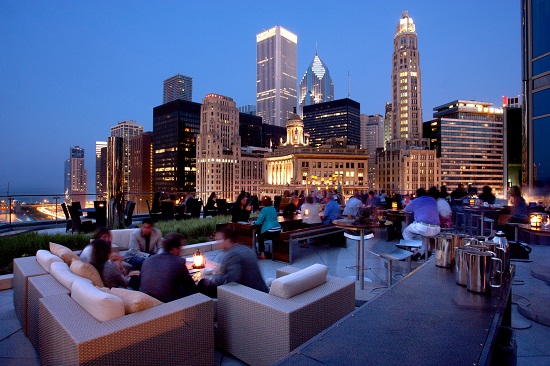 With sweeping views of the Chicago skyline, Lake Michigan, and Chicago River, what's not to like? The Terrace at Trump (401 N. Wabash Ave., 16th Fl., 312-588-8030) is a popular favorite: it's expanding by 60 seats to accommodate 164 seated guests. We can't wait to head over for the opening next Wednesday, May 18, to peek at the new Polynesian-chic theme.
If you haven't been to Hoyt's (71 E. Wacker Dr., 312-346-9870) yet, its 60-seat sidewalk patio is a good reason to check out the new resto in Hotel 71. First, the location is fun — the street level of (upper) Wacker with a killer view of the Chicago River — and the fun, comfort food snacks (don't miss the homemade pretzels with chorizo cheese sauce) are perfect for sharing. You'll have all Summer to try 18 specialty cocktails like the Midwestern Farmer Fizz (Skyy vodka, St. Germaine, fresh sour mix, fresh herbs, club soda) created by master mixologist Bridget Albert.
While we love the cozy environs of Hubbard Inn (110 W. Hubbard St., 312-222-1331), it won't stop us from snagging one of the 24 seats on the new patio  — especially for the Hubbard Street people watching. Try one of the new seasonal menu items like the Alaskan halibut with pea tendrils, rhubarb glaze, and aged balsamic ($18). New cocktails ($10 each) are divided into two categories — a Couple of Minutes and a Few Minutes — which describes the dedication that goes into making each concoction.
Roof (201 N. State St., 312-239-9502) in the Wit Hotel has received national recognition as one of the best rooftops in the city — and with good reason. The 7,000-square-foot deck boasts indoor and outdoor seating areas (for up to 150 seated guests), telescopes, fire pits, and live tunes. Come see for yourself this Sunday, May 15, when Roof launches its new program Roof Sundays — A Daytime Affair. It all starts at 11 a.m. with live entertainment, small plates, and handcrafted cocktails that will make you forget all about your weekend errands.
While you'll have to wait until June 11 for this baby, it will definitely be worth the wait. Hot new restaurant Paris Club (59 W. Hubbard St., 312-595-0800) in River North is opening Studio Paris, an indoor-outdoor lounge located upstairs. A retractable roof means you can drink your vin rain or shine and late into the night, past the witching hour when outdoor seating needs to close in Chicago.
Source: Trump Chicago