Breakfast/Lunch Eatery 2Sparrows Opens to Lincoln Park
Today's the (Opening) Day: Lincoln Park's 2Sparrows
Next
I'm kind of already in love with brunch/lunch spot 2Sparrows (553 W. Diversey Pkwy., 773-234-2320), opening today! First off, how cool is that name? But even more adorable is the inspiration. The Lincoln Park restaurant is a joint project from childhood friends Gregory Ellis and Steven Fladung, who grew up in the western 'burbs and worked together at Charlie Trotter's, with Ellis in the kitchen and Fladung in the front of the house. The two buddies enjoyed working together so much they decided to go out on their own. While I'm loving the back story (who hasn't dreamed of opening a biz with your best friend?), I'm equally excited for the seasonally driven menu, which includes the sensational looking maple-bacon doughnut shown below. Here's the scoop.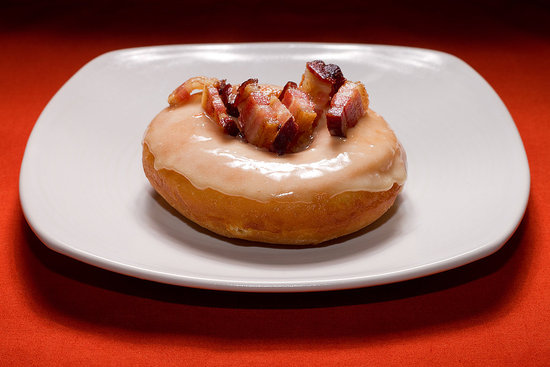 The Concept: After spending time at fancy pants restaurants including Pastoral, L20, and Ria at The Elysian, the partners decided there was an opening in the Chicago dining scene for a spot that brought an elevated sensibility and seasonal fare to breakfast and lunch. Look for ingredients and products from local farmers, artisans, distillers, and brewers and a constantly changing menu. The eatery will be open seven days a week and will not take reservations.
The Food: Try a belly sandwich (a biscuit with pork belly, sunny-side egg, and pickled onions), shrimp and grits, a noddle bowl, or 2Sparrows' take on Pop Tarts, made with foie gras, cherry compote, strawberries, and vanilla, for breakfast. The lunch menu standouts include a burger with a sunny-side egg, house-made pickles, and aged cheddar, a smoked salmon BLT featuring made-in-house bacon, and Israeli couscous, served with cucumber, herbs, roasted tomatoes, goat cheese, and greens (shown below).
The Libations: Day drinking is encouraged here, with a beverage program that features some of the Midwest's best distilleries and breweries. Try a classic breakfast cocktails infused with seasonal flavors and liquors from Koval Distillery and Death's Door Spirits, or a craft beer from Half Acre, Two Brothers, or Founders. Teetotalers can try made-to-order coffee and espresso drinks, fruit-infused smoothies, or a rotating selection of soft drinks from local producers.
The Space: Earthy and locally crafted, the 63-seat space was designed by LEED-accredited architect Moss Design and includes rich tones, reclaimed wood paneling, polished concrete floors, and Chicago-made glass-blown fixtures. Also look for rotating pieces from local artists.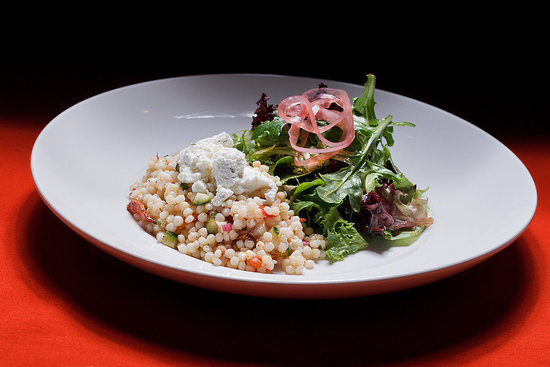 Source: 2Sparrows