Butcher and the Burger Opening Tonight in Lincoln Park
Tonight's the (Opening) Night: Butcher and the Burger
Next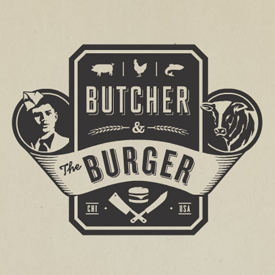 Chicago has already proven its burger prowess with gourmet spots like DMK and Burger Bar, but, let's face it, we can never have too many burger joints — especially ones that bring even more unique, foodie-friendly, meat-tastic options to the table. And that's exactly what you'll get at Butcher and the Burger (1021 W. Armitage Ave., 773-697-3735), opening tonight in Lincoln Park. The brainchild of Duchamp chef Allen Sternweiler and Josh Woodward, Butcher and the Burger isn't your typical hamburger-and-fries spot. Check out the reasons why below, and get excited to take your meat obsession to a whole new level.
No ignoring the most important meal of the day. Breakfast includes Café du Monde coffee and beignets and a selection of breakfast burgers (how about a turkey patty topped with a farm-fresh egg on a butter croissant? Also on the breakfast menu: café con leche, coladas, and cortoditos served the authentic Cuban way.
Butcher isn't just part of the name. Also stop in to visit the butcher case. Whether you want burger patties, meatloaf, steaks, organic turkeys, or suckling pigs, Butcher and the Burger will have your meat to go.
Beef isn't the only thing on the menu. Beyond grass-fed and Waygu beef, you'll find salmon, shrimp and soft-shell crab burgers; seasonal game like boar, venison, bison, elk, and ostrich; and house specialties including certified prime black Angus burgers, cube steaks, and homemade vegan burgers.
They'll teach you break-down skills. The shop offers regular culinary classes on everything from how to butcher a side of beef to how to make the perfect meatloaf or an awesome organic Christmas dinner. Classes are intimate and BYOB, and Butcher and the Burger will offer up pairing suggestions to attendees.
Frozen custard is made in-house. You know I'm excited about this one. Daily specialties will be served in the shop or packed to go. Look for classics and limited-edition flavors like vanilla-curry, smoked bacon brittle, and sweet and salty espresso bean.
You get to be the burger chef. After you select your protein, you can choose from house-blended, all-natural seasoning mixes and toppings, including the standards and some awesome options like locally made artisan cheeses, wasabi mayo, Benton's Tennessee mountain smoked bacon, black truffle aioli, and foie gras. You also choose your bun from options like wheat, pretzel, brioche, and a croissant.
The boys like to give back. On opening day, the eatery will launch a charitable promotion in honor of chef Sternweiler's friend, U.S. Army Private First Class Jordan Hoyt, who was recently awarded a Purple Heart and sustained life-threatening wounds while in Afghanistan. To honor Hoyt's preference for elk burgers topped with bacon, cheddar cheese, tomato, griddled onion, and mayonnaise, Butcher and the Burger will donate $2 for every elk burger ordered from opening day through Nov. 13. For a $5 donation, diners will also be able to enter to win 20 pounds of various ground meats and other Butcher and the Burger retail products ($250 value). That's a meaty offer!