Chicago Chef Paul Kahan
A Day in the Life: Chef and Restaurateur Paul Kahan
Next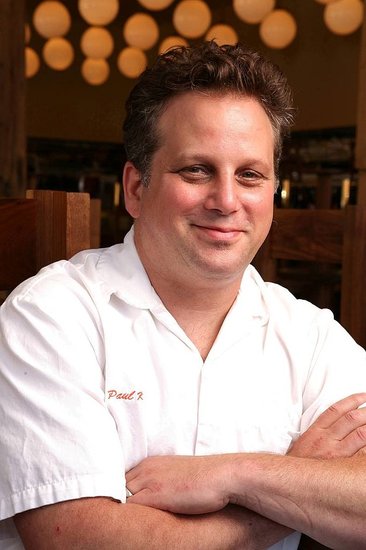 Welcome back to A Day in the Life. Last time, we took you through a day with Kelli Zink. This week, we've got the inside scoop on Paul Kahan.
I say "chorizo-stuffed medjool dates with smoked bacon" and you say Avec (615 W. Randolph St., 312-337-2002). Those tasty (and highly addictive) little morsels aren't the only reason people are enamored with executive chef/partner Paul Kahan's cuisine, and his other wildly successful restos (Blackbird, Publican, and Big Star) prove it. 
But we're not here to tell you how great Kahan's food is (you already know that) or how many international accolades he has received (including a prestigious James Beard award). We want to get personal with the son of a Chicago delicatessen and smokehouse owner who briefly worked as a computer scientist after college. Whether he's being green or just trying to stay in shape, we love that he treks to and from work via his bike five days a week. Hungry for more?
6:30 a.m. — Wake up; feed our cat, Burgermeister.
Drink two double espressos with my wife Mary before she leaves to teach yoga. I quickly weed and harvest in my garden, shower, eat some yogurt and walnuts, and hop on bike with herbs and vegetables in tow.
8:30  a.m. — Ride seven miles to organic market. Meet chefs David Posey (Blackbird) and Brian Huston (Publican) to shop and talk food.
Drink another coffee, socialize a bit.
10 a.m. — Stop by corporate office to check in with assistant. Answer questions for future events and procrastinate on several overdue recipes.
11 a.m. — Bike to Publican for menu meeting. Snack on peasant bread, homemade lox, and fromage blanc. Sit with chefs to discuss today's menu and then sit with cooks to administer the menu.
12:30 p.m. — Shoot back to Blackbird to taste new cuttlefish dish with David. Slam dunk. Charred cuttlefish fish with cynar cream cheese, pickled green tomatoes, chamomile candied almonds, and assorted flower petals. Sounds crazy, but it's not. No changes on my end. Goes on Blackbird's menu for the night.
 Run into Koren Grievson (Avec chef) on way out. Make tentative plans to talk food. Maybe Saturday. She was my original sous chef at Blackbird and knows what's up, period. Actually, she kicks ass.
1:15 p.m. —  Head back to Publican to butcher pigs and things with Erling.
2:30 p.m. — Walk around corner to Fulton Fit House (821 W. Fulton Mkt., 312-243-1083) for an hour and a half crazy workout with owner/trainer Mike Madonnis.
4:00 p.m. — Back to Publican to help cooks set up and shuck oysters.
5:00 p.m. — Taste the new Publican dishes for the day; make necessary adjustments.
5:30 to 8:30 p.m. — Bail out garde manger cook and show him how it's done.
8:30 to 9 p.m. — Bike to Big Star. Slug back a quick beer with Justin Large (Big Star chef).
Home by 10; back out with Mary for a late-night dinner at Chicago Kalbi Korean BBQ (3752 W. Lawrence Ave., 773-604-8183).
Asleep by midnight.
Tomorrow, another restaurant  — repeat!