Chicago French Market Vendors
Fresh Find: Presto Café & Grill Opens at the Chicago French Market
Next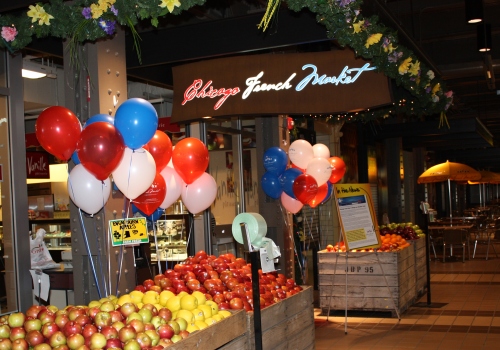 Last week was the outdoor opening of the Chicago Green City Market  (1750 N. Clark St., 773-880-1266), but at the Chicago French Market (131 N. Clinton St.,312-575-0306), you can shop (and eat) local purveyors and vendors year round. The market is a dream for anyone taking the train in or out of the Ogilvie Transportation Center, because it's literally at the bottom of a flight of stairs on the platform. I regularly take the train to visit my fam in the suburbs, so I'm no stranger to the market, from the freshly made crepes at Flip, the macarons at Vanille Patisserie, the banh mi at Saigon Sisters . . . I could go on. As of this week, there's a new kid on the block: Presto Café & Grill.
Not to be confused with a French café, where one might acquire an espresso and pastry, Presto brings a taste of the Mediterranean to the market. After attending culinary school and working at the highly regarded Pragha restaurant in Moscow, owner and chef Israel Szudler lived in Israel and worked as a head chef mastering the flavors and techniques you can now taste for yourself. Presto's menu is made up of appetizers, sandwiches, and entrees with highlights like freshly made hummus, chicken shawarma, Moroccan-style baked tilapia, and crispy falafel.
My suggestion? Take your lunch break at the Chicago French Market on a Wednesday between 11 a.m. and 2 p.m. and catch the live music while you sink your teeth into your kabob. Maybe I'll see you there or leave me a comment and let me know about your experience!
Source: Chicago French Market