Chicago Halloween Makeup
Killer Looks: A Chicago Makeup Pro Dishes on Halloween Looks
Next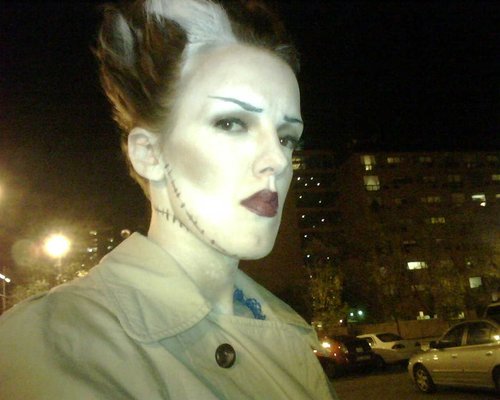 Only a 7-year-old on the way to the school Halloween parade has an excuse to have a botched-up, unprofessional makeup job come Oct. 31. You're an adult now, and chances are you didn't buy your costume from aisle five in Walgreen's, so it's time to up the ante in the makeup department too. Not to mention, you're more apt to pick up Dracula by the punch bowl should your ghoulish good looks be in check.
If stocking up on Ben Nye makeup and practicing dark eye sockets is turning into an unintended visual nightmare, then wash that face paint off and leave the artistry to a pro. To the rescue: Ann Marie Weinhert, who offers her expertise via Beauty Parlor Makeup (3614 W. Belmont Ave., 773-685-9020) with pal Ashley Vest. The dynamic duo has an impressive client list that includes AT&T, Miller Lite Beer, Nintendo, Pepsi, American Express, Tampax (and several others), as well as Chicago's own Bill Rancic and Alpana Singh.
With that being said, who better to apply those falsies (as in eye lashes) or fangs than these ladies? As a former makeup artist, I can tell you that the key to awesome vs. average makeup is the quality of the products and brushes and, of course, technique. When it comes to Halloween makeup, however, it's safe to say that I'm in the dark, so to speak. With that being said, I asked Weinhert to dish on the good, the bad and (of course) the ugly.

PopSugar Chicago: What types of looks have you done in the past?
Ann Marie Weinhert: Some of my favorite Halloween looks include Bride of Frankenstein (see picture), but this year my partner Ashley Vest and I worked on some new Halloween makeup ideas like sexy classic monsters, including "pretty" female versions of a witch, a zombie, a vampire and a fairy. We also did a sexy werewolf for the gentlemen out there!
PC: What trends do you think are in this year costume- and makeup-wise?
AMW: I think we're going to see a lot of people taking classic costume options and personalizing them, trying to make them unique. In this era of social media one of the biggest perks of uploading an image of yourself is the feedback from your friends. If you upload something really thoughtful or creative, your costume choice is bound to be noticed! My partner Ashley even has some creative ways of making guts and gore look . . . kinda sexy.
PC: Where did you train in order to execute Halloween makeup?
AMW: I literally learned how to apply Halloween makeup on the job. As a professional makeup artist for nearly 10 years, I've been in just about any situation where makeup is requested, and one of our most common October inquiries is for Halloween makeup — it's one of my favorite times of year.
PC: What is the cost of a session?
AMW: We've created Halloween makeup parties where you and some of your friends can get together and get your Halloween makeup done as a group. We charge $35 per person for lips and eyes. You can pick from some of our sexy classic monsters, or we can customize it to suit your needs.