Chicago Holiday Gift Guide With Amanda Puck
2011 Gift Guide: Holiday Tips From Amanda Puck
Next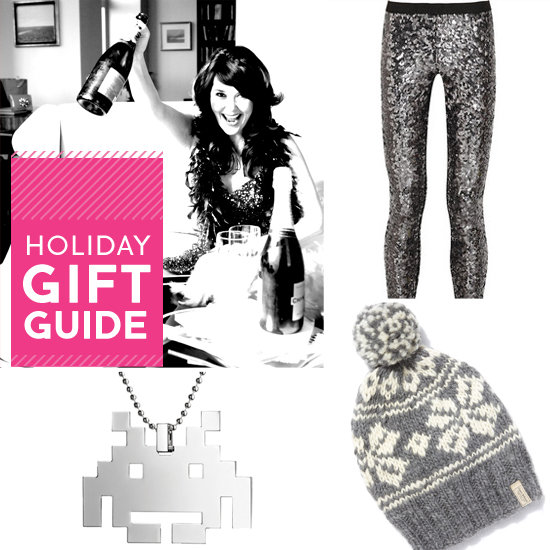 Gal-about-town Amanda Puck, the EVP of local PR firm The Experiential Agency (a national agency that counts Hermés, Marc Jacobs, and the Ritz-Carlton among its clients), a dedicated foodie, a former Crain's 40 Under 40 winner, and an undeniable Chicago tastemaker, gave us her holiday tips, on everything from shopping and party dressing to must-do local traditions. I wholly agree with Puck's sentiment that sequins always work around the holidays — although I'm not sure I've ever seen her without some sparkle.
PopSugar Chicago: What's the one piece of clothing that's a must have for the holiday season?
Amanda Puck: Anything with sequins: t-shirts, blazers, or leggings, I love anything that sparkles. I actually have a pair of sequin leggings I always wear during the holiday season, and a great purple sequined tee I scored at a Luxury Garage Sale trunk show at Sofia.
PSC: Any Chicago must dos for the season?
AP: I love the Christkindlmarket at Daley Plaza. I go every year because I crave the insanely delicious wiener schnitzel sandwiches and ice cold beers. It is like a true European holiday market: delicious food, handmade ornaments great for gift giving, and, of course, a beautiful Christmas tree.
PSC: Favorite stops for holiday shopping?
AP: I love shopping at the 900 North Michigan Shops. It's truly a one-stop shop for me: holiday looks, gifts, and snacks! I can never leave without stopping in Space519. They always have amazing pieces I can add to my collection. For the men in my life, I love the newly launched Park and Bond for great accessories and techie gadgets. (Note: my hubby is totally getting the Gant Rugger hat shown above now! Thanks, Amanda!)
PSC: Go-to gift this year?
AP: Booze! I love Lush Wine & Spirits. They do great gift box wrapping and you can get anything from craft beers to wines to the makings of the perfect Manhattan with Luxardo cherries — the best!
PSC: Any tips for surviving the season?
AP: You have to own it. Stay festive and enjoy the season for everything it's worth.
PSC: What's on your wish list?
AP: I'm obsessed with the Space Invaders necklace at Christofle (shown above). It's such a fun accessory to add to any outfit. And I can never get enough of the stone stretch bracelets with fireballs at Space 519. Oh, and as a foodie, Crosell & Co. has amazing things like bedazzled champagne glasses. You can never have too much sparkle in your life!
Source: Amanda Puck by CF Captured, Park and Bond, and Christofle