Chicago Weekend Events April 1-3 Include Decadestwo.1 Pop-Up and Chicago Cubs Opening Day
Weekend Tips: Head to the Ballpark and Shop, Shop, Shop
Next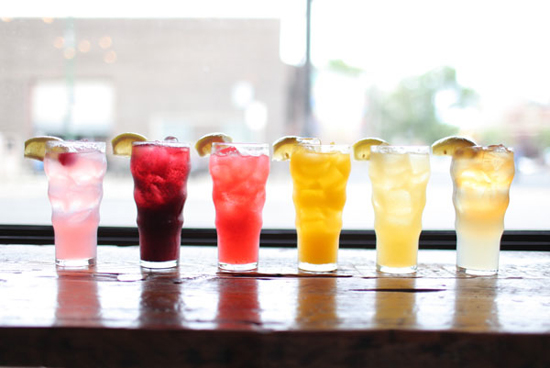 If you're a baseball fan, Friday is your day: it's the Cubs' opening! The first game starts at 1:20 p.m. and Robert Redford — a former baseball player; who knew? — is throwing out the first pitch. Even if you don't have tickets to the game, all the area bars will be rocking. Radio station 93XRT will host its 19th annual live broadcast, with live music, at Yak-Zies Bar and Grill (3710 N. Clark St., 773-525-9200) from 6 a.m. to 1 p.m., but I recommend stopping by Rockit Wrigleyville (3700 N. Clark St., 773-645-4400) for a cinnamon-raisin grilled cheese (melted brie, apples, baby greens, and balsamic hazelnut) and a vodka lemonade (varieties shown above).
If shopping is more your scene, then you're also going to have a great weekend. The Decadestwo.1 pop-up shop opens tomorrow for two days of vintage shopping perfection at Space 519 (900 N. Michigan Ave., 5th Fl., 312-751-1519) on Saturday and Sunday. Pick up a pair of discounted Louboutins, a new pair of jeans Decades Denim, or a complete look for less than $400 from Decades' Head-to-Toe collection. Afterward, stop by Bloomingdale's, also in The 900 Shops, to meet the founders of awesome skincare line Malin + Goetz, who will be offering skin consultations from 2 to 5 p.m.
Also on Saturday, from 11 a.m. to 5 p.m., Cerato Boutique (3451 N. Southport Ave., 773-248-8604) will host an event with designer Kristin Hassan. Stop in for a chance to order a one-of-a-kind wrap dress (check out one option, shown above right) from the super-talented local designer, who will help you find the perfect fit and choose from a selection of bright-colored and bold-printed fabrics. Your custom dress will arrive in three to four weeks.
Source: Rockit Wrigleyville and Kristin Hassan