Chicago's Best Hot Dogs
What's Your Favorite Hot Dog in the City?
Next
Welcome back to Pop 5. Last week we started off our savory food series by asking about your favorite gourmet burger spots in the city, and, while the choices were tough, the results are in. Since Summer is almost over, I thought I'd continue the theme of high-end versions of all-American foods with Chicago's other favorite grab-and-go choice: the hot dog, probably the most famous of our city's fast foods. Yes, we all know the lines for Hot Doug's are legendary (in all kinds of weather; check it out below) — and the dogs are worth every minute of wait time — but it's not the only place in town serving up incredibly addictive versions of your childhood favorite. Superdawg, Portillo's, and Wiener Circle are three more must-try dog spots.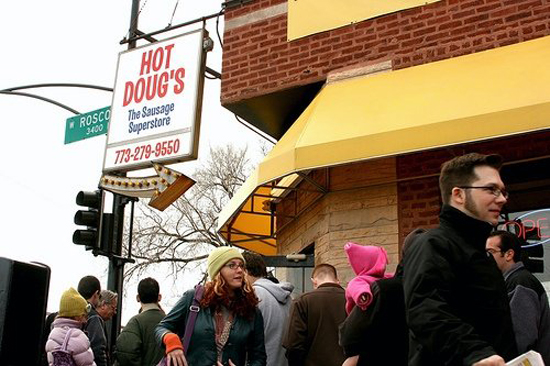 It's a tough choice, but what's your favorite hot dog spot in the city? Leave a comment below, tweet me, write on the PopSugar Chicago Facebook wall, or send me a private message, and I'll compile all of your suggestions to create a definitive list.
Source: Hot Doug's