Do-Division Holiday 2011
Shop 'Til You Drop: Do-Division Holiday Deets!
Next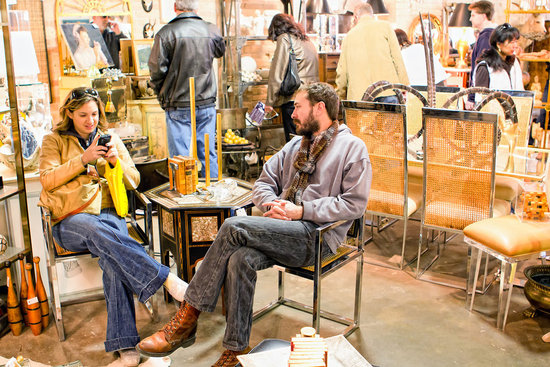 Forget Black Friday. The Do-Division holiday event is Chicago's annual shopping extravaganza, boasting deals from several retailers and restaurateurs on the Division Street strip. This year's festivities take place on Saturday, Dec. 3, and Sunday, Dec. 4, at 11 a.m. (closing time is dependent upon each merchant). What can you expect? Here's the scoop:
The exact location of the event is on Division Street between Milwaukee and Leavitt, and if you're not looking to hoof it all on your own (or simply want to get in the holiday spirit), take advantage of the free horse-drawn carriage rides offered both days from noon to 5 p.m. Keep an eye out for Santa and the elves distributing coupons and gift certificates up and down the strip!
There are too many participants (over 50) to mention, but highlights include Pump, Inc. (mega clearance on shoes and accessories), Le Dress (10 percent off first item, 20 percent off second item of equal or lesser value item, etc., up to 40 percent off fourth item), Ruby Room (complimentary holiday makeovers), and Jerry's Sandwiches (holiday brews, baked root beer ham and roast goose sandwiches, R&B and rock 'n' roll holiday tunes and movies).
Can't make it to Do-Division or simply love a great deal? The Unwrap Wicker Park Bucktown program allows you to obtain discounts and freebies from over 50 local retailers, restaurants, spas/salons, and more from Dec. 3 through Dec. 24. Simply download your "passport" on the Wicker Park Bucktown website, present it to the participating merchants, and start reaping in those bennies!
Also coinciding with Do-Division and Unwrap WPB: the sixth annual Renegade Craft Fair Holiday Market, open from 11 a.m. to 6 p.m. at the Pulaski Park Fieldhouse (1419 W. Blackhawk St., 312-742-7559). If you're looking for that one-of-a-kind gift, chances are you'll find it here, as you can shop handmade goods from over 150 vendors.
Source: Rep3