Dr. Brooke Jackson Skin Wellness Center of Chicago
Skin Smart: A Chicago Skin Doc's Tips For Summer Sun
Next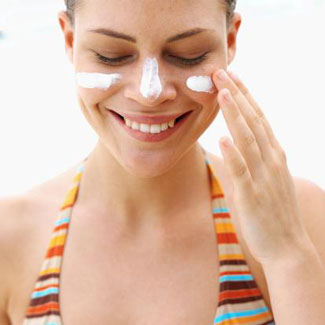 For those who opt to run, eat, walk, sit, or lay out in the sun without sunscreen, I say, shame, shame. Don't get me wrong: you don't have to be an indoor recluse, but there are ways to enjoy the sun's rays without risking its adverse effects. May is Skin Cancer Awareness Month, so before you get ready for all that boating, al fresco dining, and beach time, make sure you're armed with sun smarts.
If you're confused about how much to put on when and what type to use, you're in luck: we turned to Dr. Brooke Jackson of the Skin Wellness Center of Chicago (111 N. Wabash Ave., 312-236-9950) to clear things up. Dr. Jackson is a member of the American Academy of Dermatology and the American Society of Dermatologic Surgery, and her wellness center is a full-service cosmetic dermatology facility offering the latest skin care treatments like Sculptra, Dysport, Radiesse, and more.
PopSugar Chicago: There's a lot of confusion on what level of SPF to use; what is the most effective?
Dr. Brooke Jackson: SPF (sun protection factor) rating only refers to UVB protection,  but it's the UVA and UV wavelengths that play a role in development of sun damage, wrinkling, and skin cancer. Look for terms such as "broad spectrum or UVA/UVB protection" to ensure protection against both wave lengths. Also look for certain ingredients that block or filter UVA: titanium dioxide, zinc oxide, helioplex, mexoryl.
PSC: How much SPF should be applied on face and body?
BJ: A shot glass full — we all know what that looks like!
PSC: Is putting on makeup with an SPF enough for the face?
BJ: Not necessarily. Most people don't wear makeup every day. I don't on the weekends, yet this is when I am outside the most. Make an application of sun protection an unavoidable habit like brushing your teeth. There are too many good choices of moisturizers with SPF out there for this to be an issue! Also most makeups do not have a high enough SPF.
PSC: It's also not realistic for most Chicago women to slather on more SPF later in the day over our makeup. Any tips?
BJ: Reapplication is most necessary when there is chronic exposure to the sun (working outdoors, vacation, game of tennis, running a marathon), which are activities where makeup hopefully is not an issue. Going to work, out briefly for lunch then back in the office is not a problem. However, if you work outside, reapplication is non-negotiable if you wish to lower your risk of skin cancer. Consider an easy-to-apply brush on sunscreen, such as Colorescience Sunforgettable, which you can leave in your purse and reapply.
Source: Thinkstock