Fashion Focus Chicago 2011 Events Get an App
Overwhelmed by Fashion Focus Style Awesomeness? This Free App Will Help!
Next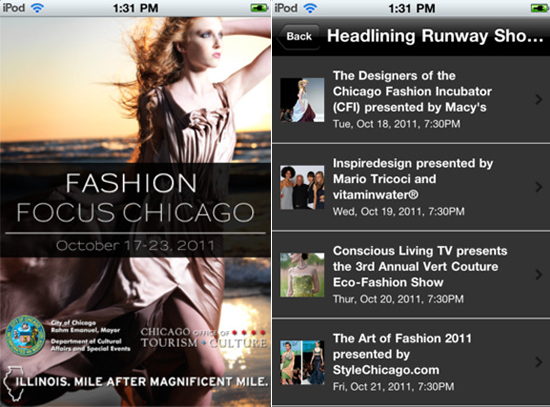 Today is officially the launch of Fashion Focus, and for the next week, from Oct. 17-23, the city will be completely overtaken by fashion shows, boutique shopping events, style seminars, and so much more — including some serious voyeurism since you know Chicago's fashionistas are going to be rocking it out at all the shows this week. If you're overwhelmed by the sheer number of events, which take place in Millennium Park and at shops, malls, and museums all over the city this week (I know I am) you're in luck. Fashion Focus Chicago's (free!) app will help you organize your style schedule.
Some of my top picks this week include the Macy's Designers of the Chicago Fashion Incubator show on Tuesday night, the Modern Vintage Chicago and Indie Designer Market this weekend, and the Simply Sofia show at the Wit on Saturday night. But, dozens more events will be taking place all week long, and now I have the app to get me to as many as possible. Bring on the fashion!