Flower Shops in Wicker Park and Bucktown
Bring on the Blooms! 4 Places For Spring Flowers in Bucktown
Next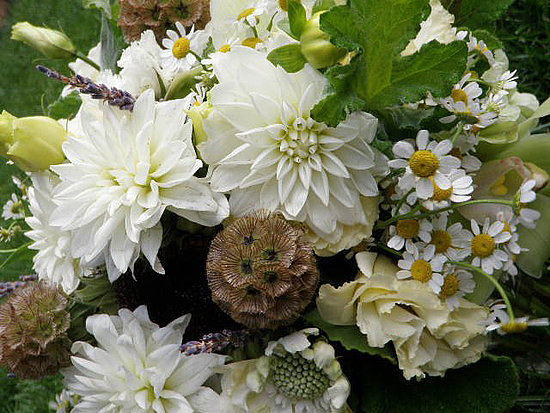 Bucktown is in full bloom this week, thanks to the arrival of new flower shop Pistil & Vine (1924 N. Damen Ave., 773-698-7287). Stop by to check out a gorgeous array of tulips, hydrangea, anemones, potted herbs, and verdant ivy that literally fills the shops from top to bottom. Owner Megan Musschoot has been working in the flower industry for more than a decade and features a selection of exotic flowers, flown in daily, next to a great selection of local and organic blooms, for those of you prefer your flowers super green. Also stop in for all-natural home fragrances and eclectic home items, including mercury-glass candles, milk-glass vases, and more. But Pistil isn't the only flower shop in (Buck)town.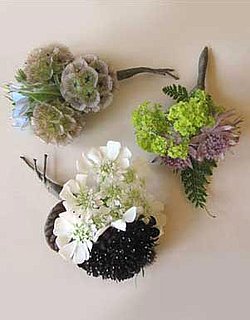 Larkspur (2123 N. Damen Ave., 773-489-2898) owner Beth Barnett moved her shop to Damen in 2004, after spending 10 years creating arrangements for weddings (check out a few wedding bouquets, shown right) and corporate events. The current space was designed to inspire clients with an exotic, extensive selection of flowers and plants from around the world — displayed next to organic peonies and sweet pea from Larkspur's own personal flower farm in Michigan. Pick your own floral combination or let Larkspur's artistic design staff take the lead.
Asrai Garden (1935 W. North Ave., 773-782-0680, shown below left) is probably the hippest of the flower bunch, adding a hard-edged, rock 'n' roll vibe to its florals. The shop, which opened in 1999, operates on the philosophy that flowers are naturally beautifully and shouldn't be forced into unnatural shapes. Asrai Gardens' blooms are kept out in the open in glass jars and vases, and arrangements are hand tied and feel totally organic. Stop in and choose your own stems and the staff will make a bouquet while you wait, or take advantage of Asrai Garden's seven-day-a-week delivery service. Also browse the shop's incredible selection of home goods, including items by Côté Bastide, Santa Maria Novella, and John Derian.
Cattails (1935 W. Division St., 773-486-1621; shown below right) is modeled after a European flower market, and owners Dina Cale and Lisa Atterberry, who opened the Wicker Park shop in 1998, believe that customers should pick out their own floral creations, though they are always there to help you pick through their unique flowers, including ornamental peppers, oriental lilies, and more. Whether you're looking for a small bouquet or a florist for an event or wedding, Cattails always has inspirational blooms that they'll personalize to your taste.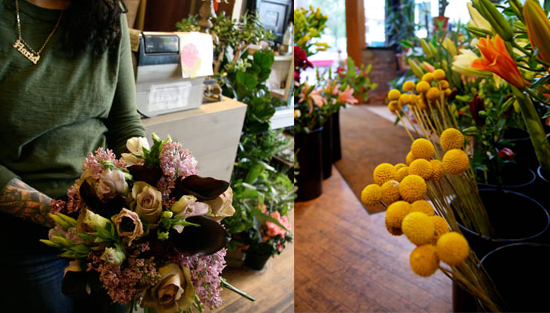 Source: Pistil & Vine, Larkspur, Asrai Garden, and Cattails