Hotel 71 Chicago Transformers Location
Scene of the Crime: Hotel 71 Stars in the New Transformers Movie
Next
While most people are buzzing about Shia LaBeouf's recent Megan Fox hookup confession, Chicagoans are more excited that the majority of the third installment of the franchise was filmed in Chicago last Summer, which is fun even if you're not a fan of movies based on iconic '80s toys.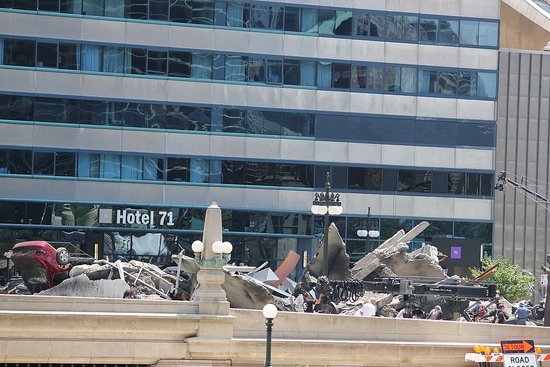 Transformers: Dark of the Moon just hit theaters on Wednesday, and I'm told it has some pretty spectacular stunt and action sequences highlighting iconic spots such as the Michigan Avenue bridge, Willis Tower, Trump International Tower, the Tribune building, Lower Wacker Drive, the Financial District, and more. But the folks at Hotel 71 (71 E. Wacker Dr., 312-346-7100) are more than thrilled that the grand finale took place right in front of their hotel (see the pic), prompting general manager Steve Shern to create a special package for guests offered during the three days of filming.
With a flash of their room key, guests had exclusive access to watch all the action on the set, as well as a the once-in-a-lifetime opportunity to see stars like Shia LaBeouf, Josh Duhamel, and newcomer (and model) Rosie Huntington-Whiteley lounging on the hotel lobby furniture in between scenes.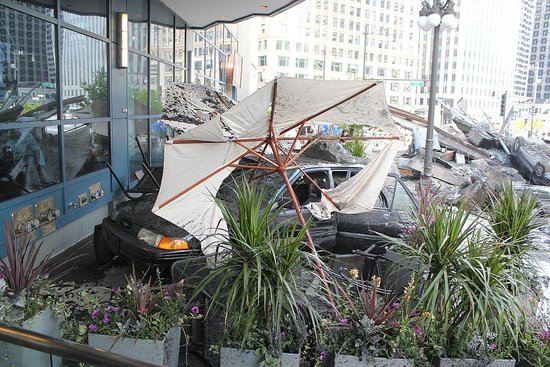 Movie buzz aside, there are other reasons to visit Hotel 71. If you haven't been to Hoyt's yet, then you have to snag a seat on its 60-seat sidewalk patio while the weather is still in our favor. You'll literally be sitting at one of the scenes of the movie — though we promise it won't be destroyed. Open for breakfast, lunch, and dinner, as well as for libations and snacks of a shareable size. I recently had the super delish seared tuna with caramelized onions, avocado salad, sunflower sprouts, and popcorn ($28), and don't miss the homemade pretzels with chorizo cheese sauce! You'll have all Summer to try 18 specialty cocktails like the Midwestern Farmer Fizz (Skyy vodka, St. Germaine, fresh sour mix, fresh herbs, club soda) created by master mixologist Bridget Albert.
Source: Hotel 71