Karen Herold 555 Designs Chicago
A Day in the Life: 555 Designs' Karen Herold Is the Eye Behind the Girl & the Goat and More
Next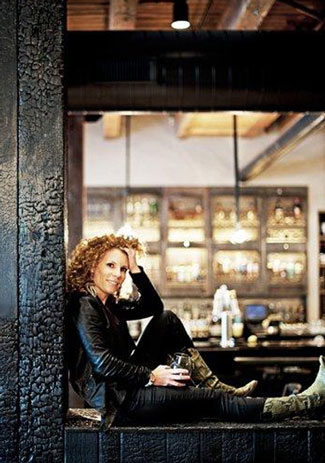 Aside from the food, it's the ambiance of a restaurant that evokes memories and gets people talking.  555 International is the design firm behind some of the most popular restaurants in town — you may have heard of the Girl & the Goat (809 W. Randolph St., 312-492-6262) and GT Fish & Oyster (531 N. Wells St., 312-929-3501). A native of Ellecom, Holland, Karen Herold is the vice president of design at 555, a position she may have never had if it weren't for meeting her husband-to-be in Europe and moving to Chicago. Herold was introduced to James Geier of 555 International, and the rest is history. Hired as creative director, she was promoted to her current position in 2007. She looks to her native country for design inspiration (Dutch designers and artists as Studio Job, Piet Boon, and Moooi) and travels the country on an almost weekly basis to capture the latest trends. Her self-induced "homework" is dining at restaurants to garner the true customer experience. But what's even more surprising is that she still has time to check her son's homework in the process.
My day to day is different every day, things are constantly changing . . .
Alarm goes off between 5:30 and 6 a.m., and the first thing I do is feed my starving cat.
I make myself a Nespresso cappuccino.
While Max, my son, is still sleeping, I sit on the couch and check all my emails.
When Max wakes up, we snuggle a little on the couch as he likes to take his time waking up.
We take our time with breakfast, chat about our plans for the day, and I check his homework.
I bring Max to school and we listen to loud music — he prefers Michael Jackson.
I arrive at the 555 offices between 8:30 and 9 a.m. James and I sit down with a cup of coffee to discuss plans for the day.
In the morning, I sit down with my great designers to work on some new designs for all the fabulous local restaurants we are working on.
Go downstairs to the factory and check the wood finishes on the cabinets we are making for Perennial Virant (1800 N. Lincoln Ave., 312-981-7070).
Spend some time reviewing shop drawings for new furniture we designed and finalizing the fabric selections.
Make my favorite juice for lunch with carrots, apples, ginger, and celery.
Skype with my mom in Holland and my sister in Jordan. Check Facebook.
Drive downtown and meet with the Boka boys at Girl & the Goat to discuss the latest design ideas for Perennial. (I never mind getting stuck in traffic as I am on the phone 90 percent of the time while I am driving and get lots of work done!)
I end up being late, but lucky enough to be there when the staff is having their dinner, so I can have late lunch.
Swing by Jan's Antiques (225 N. Racine Ave., 312-563-0275) to see if there are some new treasures for the next project I'm working on.
Drive up North to visit Roost (5634 N. Clark St., 773-506-0406) and pick up some bell jars for a new light fixture we designed for Perennial Virant. While I'm in the neighborhood, I check out Scout (5221 N. Clark St., 773-275-5700).
Pick up my son and drop him off at taekwondo.
Meet some friends at GT Fish & Oyster, and enjoy a great after-work cocktail (waitlist) and oysters. Yoga will have to wait until tomorrow.
I am home by 8:30 p.m. to put Max to bed after we spend some time discussing the best and worst moments of the day.
Make tea and start packing for my trip to Miami tomorrow.
Work a little, send some emails, and make sure everything will run smooth in the office while I am out for a couple of days.
By 10 p.m. I am in bed with a Dutch book (I like to read in my own language) and hopefully asleep by 10.30 p.m. , as I am flying out on the 6 a.m. flight!