Kelli Zink Chicago
A Day in the Life: CelebTV's Kelli Zink
Next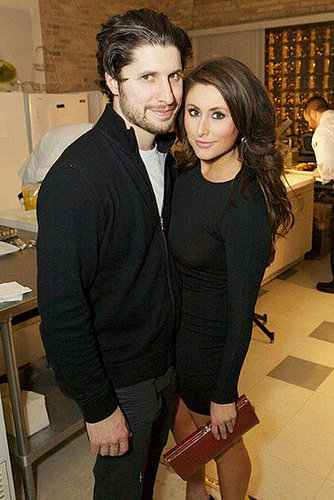 Welcome back to A Day in the Life. Last time, we took you through a day with local designer Lara Miller. This week, we've got the inside scoop on Kelli Zink. From charity events to fashion shows and store openings, she is the face (and voice) of Chicago's social scene, and you'll never see her wear the same outfit twice — ever. But that's just her nighttime gig. Zink is a host on CelebTV.com, a daily celebrity news and gossip website, which keeps her busy traveling between Chicago and LA on a regular basis. You may have also seen her sharing her pop culture insight on CNN Headline News' Nancy Grace and ShowBiz Tonight among several other leading entertainment news shows.
Meanwhile, she finds time to contribute to her new blog, Don't Wait by the Phone, as well as Giuliana Rancic's (E! News) blog, fab.fit.fun, which pretty much describes Zink in a nutshell. If you want to know how somebody who is always in the limelight stays fit while dating a chef (Chicago's own Ryan Poli, pictured), Zink can tell you it comes from her 6 a.m. workouts, never drinking before events, and sticking to a fairly strict seagan diet. Though her routine was no doubt altered during a recent eating-and-drinking tour of Spain with Poli and the culinary team behind his upcoming Tavernita, I saw Zink just a couple of weeks ago, and there was no sign of the culinary excursion. Kinda makes me want to set my alarm an hour earlier. How does she do it?
5 a.m. —  Alarm goes off; get ready to hit the gym.
6 a.m.  — Girlfriend picks me up and we head to David Barton Gym (600 W. Chicago Ave., 312-836-9127) for Shred (ropes, biking, running) class (five times per week)
8 a.m.  — Get to office at State and Kinzie in River North. I live in the Gold Coast, so I walk if it's nice outside.
8 to 9 a.m.  — Get my hair and makeup done (eyelashes, extensions, the works) and hit the wardrobe department.  
9 a.m. to 5 p.m. —  A full day of shooting and scripting in "real time." At 4 p.m., I shoot Showbiz Tonight for CNN and/or commentary for Fox.
5 p.m. to ? — Go home and get ready for the events of the evening (red carpets, appearances etc.). Grab a quick bite — but never a pregame cocktail.  
Kelli's Favorite Things:
No more facials; loves the Clarisonic brush.
Dr. Carolyn Jacob (20 W. Kinzie St., Ste. 1130, 312-245-9965), her dermatologist, is absolutely amazing. 
Sofia Vintage (72 E. Oak St., 312-640-0878) for the amaze selection of new designers and vintage wares. 
Golden Girl Tanning (1940 N. Lincoln Ave., 813-784-4906) for that beachy glow 365.
Blo dri (408 N. Clark St., 312-595-3000) salon for a killer blowout.
Taylor Reese (6 W. Maple St., #1, 312-640-0700) for color and style.
Hub 51 (51 W. Hubbard St., 312-828-0051), Luxbar (18 E. Bellevue Pl., 312-642-3400), and Freshii (multiple locations) for delivery.
Double A  (108 W. Kinzie St., below Mercadito) or The Cedar Hotel (1112 N. State St., 312-944-1112) for cocktails with the girls.