Lincoln Park Taco Joint New Favorite Takeout or Eat-In Mexican Spot
Eat This Now! Taco Joint
Next
I just had my first Taco Joint (1969 N. Halsted St., 312-951-2457) experience, and all I have to say is "delicioso." I've chronicled my obsession with Big Star here, and Taco Joint's food reminds me of my favorite Wicker Park spot, without the super-loud honky tonk and super-long wait for a table. Three-bite tacos, insanely yummy guacamole, and mucho gusto margaritas made for a night I'd like to repeat about once a week.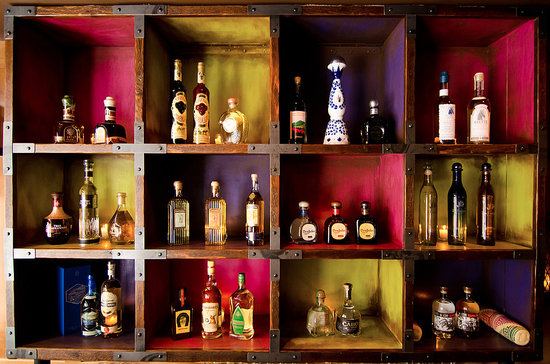 Fans of Minnie's (there seem to be quite a few out there) will remember the layout of the restaurant that now houses Taco Joint. A bar packed full of more than 50 types of tequila (see above) fills the front room, while the back is your typical dining space, bringing total capacity to around 70 people. My party of four sat at a large rustic wood table in the back and quickly began filling it up with Mexican yumminess.
We started with three types of guacamole (see below): the Tradicional, avocado with tomatoes, red onion, cilantro, and serrano; the Fruta, avocado with papaya, mango, habanero, and walnuts; and our fave, the Rojo, avocado with roasted tomatoes, roasted onion, and roasted red jalapeno salsa. My dining companions went to work on some traditional margaritas, but I was feeling boring so stuck to water, which ended up being my biggest complaint of the evening. The repurposed tequila bottles that the water is served in are adorable, but my glass was so small I had to refill it almost a dozen times (holy jalapeno). A larger water glass would be much appreciated, por favor.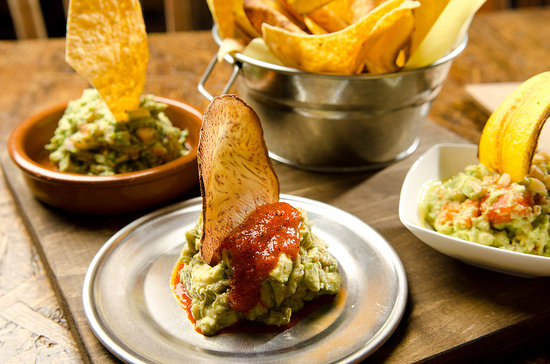 After devouring our guacamole, we moved on to tacos. The tacos are small (see below), about three bites each, and our server recommended about three per person (each taco is only $2 to $3). I ordered the Ceviche, citrus-cured tilapia with tomato, red onion, roasted red pepper, orange, and avocado on a crispy tortilla, which was fresh but slightly bland. Any disappointment over that first bite was quickly made up by my other two choices: the Al Pastor, marinated, grilled chicken breast with serrano-pineapple juice and tangy tomatillo salsa, and the Rajas, poblano peppers and onions served with creamy tomatillo salsa and a black bean spread. I couldn't pick a favorite between the two, but I definitely could have devoured a whole plate of each.
There are around 10 tacos on the menu, along with tortas, salads, antojitos (street snacks), and huaraches (flatbreads). We ordered the Cecina huaraches to share and ended up fighting over the last piece. The thinly sliced, cured steak, roasted red jalapeno salsa, and guacamole on top of the chewy, thin flatbread was a knockout combo.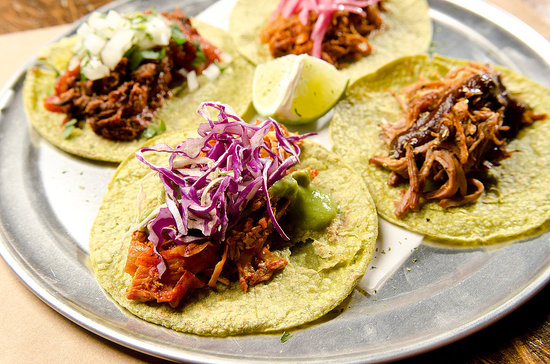 We were too full to order dessert, and I was still stuffed almost an hour later. But today, I'm totally considering stopping by the Taco Joint's walk-up window for a few more Al Pastor tacos, destined to be my new favorite takeout in town.
Source: Taco Joint