Lockwood Chef Val Benner Day in the Life
A Day in the Life: Lockwood Sous Chef Val Benner
Next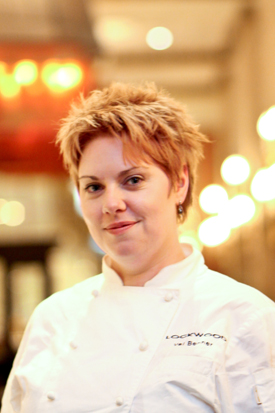 With the rise of Top Chef, No Reservations, and the Food Network, a chef's life might seem more glamorous than ever, but one look at Val Benner's normal day, and you'll realize that the average chef is too busy working to indulge in the perks. Benner, the sous chef at Lockwood at the Palmer House Hilton (17 E. Monroe St., 312-917-3404), has also put in time at the American Club in Kohler, WI, and the Pump Room, but since joining the staff at Lockwood, her food has really begun to shine by turning seasonal farm ingredients into contemporary dishes. She also helped to launch the restaurant's 2,000-square-foot rooftop garden. Check out a typically busy day in Benner's life below.
5 a.m.: Wake up. Walk my dog Callie and feed her a breakfast of brown rice, kibble, chicken, probiotics, and lard. My breakfast: yerba mate latte with soy milk and honey. Sit down at my vintage refinished dressing table and nurse my yerba mate while making myself presentable for the masses and wake myself up. Walk to the El and hop the blue line into the Loop.
6:30 a.m.: Say hello to the farmers at the Adams Street Farmers Market. Confirm everything they're dropping stuff off at the hotel after the market. Giggle at the fact it's finally apple season: my favorite!
7 a.m.: Walk into the Palmer House Hilton, throw on my clogs and chef's whites, and head up to the 25th floor roof and water my garden. Harvest herbs, flowers, and items for lunch service.
7:30 a.m.: Walk into Lockwood restaurant (shown below right) and jump into a busy breakfast service. Say good morning to the team, make sure everyone has what they need to service upwards of 500 people before 11 a.m.
9 a.m.: Check emails. Inevitably there are a lot (communication is key in such a huge hotel). Confirm all vendors received the orders from the day before and make a list of everything I need to get done today. If I'm quick with the administrative stuff, I can sneak in an hour of prep-cooking and experimenting for menu development before lunch service starts rocking.
11 a.m.: Lockwood lunch service begins, and by 11:30, I'm expediting service, making sure every table gets exactly what they ordered in a timely fashion. More than 150 covers later, I need to clean up the carnage on the line, where it looks like french fries, truffle chips, and micro greens all got into a kung-fu fight.
1:30 p.m.: Realize I'm starving and sneak a quick bibb salad with extra smoked chicken before the second shift comes in. By 1:50, I start to work with chef Greg Elliott on creating the specials for dinner service. The dark chocolate caramel tart I made before lunch service is exquisite, and chef loved the chanterelles and lobster mushrooms I sauteed for his rib-eye special. I make sure afternoon high teas are perfect for service starting at 2 p.m. I have to double-check that I have something for the vegan and that the kids' teas have jello and cookie lollipops. Everything is perfect as long as the reservations were written correctly, and we don't get any surprises.
2:15 p.m.: Say hello to second shift cooks as they come in and go over the night's reservations, specials, and events. Answer questions and address special dietary needs guests have specified in their reservation notes. We have a 30-top with six special dietary needs coming in at 6 p.m., and I confirm that their limited menu is diverse enough to cover everyone's needs.
2:30 p.m.: Go back to my prep station to help chef Elliott prep and pack for an off-site event he's doing later that evening. Write down everything the cooks say they need ordered for the next day and start a prep list for tomorrow.
4 p.m.: Go up to the rooftop garden and harvest herbs, tomatoes, flowers, chilies, and lettuces for the evening's service. Prune garden while harvesting and enjoy the spectacular view. Come back down by 4:30 so that I can gently rinse everything and get it to the correct stations before our pre-shift meeting.
4:45 p.m.: Pre-shift meeting with front-of-house to go over specials, in-house events, and educate everyone on the flavors and harvest location of today's oysters. Let them taste the rib-eye, hamachi crudo, and dark chocolate caramel tart specials and work with them and our sommelier to pair each with wine. The hamachi crudo is particularly stellar when paired with a crisp Croatian white, and as always, the servers devour the food like starving hyenas.
5 p.m.: Walk the dry storage and coolers to see what we need for the next day. Make necessary orders by emailing and texting farmers and vendors directly.
6 p.m.: Make myself a hot tea, say goodbye to the crew, change into my civilian clothes, and hop the El back to Bucktown.
6:30 p.m.: Meet a friend at Belly Shack for dinner, order my usual soba noodles with shrimp and their passion fruit lemonade.
7:30 p.m.: Walk home, walk the dog, and chat with the neighbors. Inevitably, I'm handed a glass of wine, other neighbors join us, and we end up chatting for at least an hour about food, art, and local current events.
8:45 p.m.: Hit the couch with a beer and the dog and start to watch an episode of No Reservations. Start to doze off by 9 p.m. Realize I'm dozing off on the couch again and hit the shower.
9:30 p.m.: Feed the dog, climb into bed, read a chapter or three of some fantasy book one of my awesome geeky friends recommended. Pass out to do it all again tomorrow.
Source: Lockwood Restaurant