Michael Jordan Steak House Opens in Intercontinental Chicago
5 Reasons to Try Michael Jordan's Steakhouse
Next
While no one's arguing that Chicago needs more steakhouses, we're also not going to deny one from our city's most famous athlete of all time. And the much-anticipated Michael Jordan Steak House (505 N. Michigan Ave., 312-321-8823), which opened in The Intercontinental yesterday, Aug. 23 (23, get it?), is pretty awesome, with classic but chic decor and a menu that is actually exciting (wild Alaskan salmon with mussels, peperonata, prosciutto, and lardo crostini? Key-lime bombe with yuzu curd, citrus-mint salad and toasted meringue? Yes and yes; check them out below).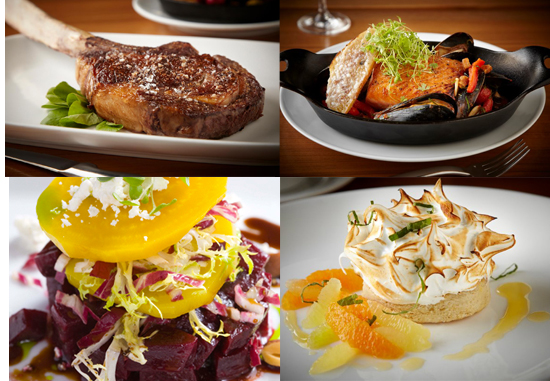 For five reasons I'm glad the basketball great entered the local restaurant biz,
There's a dramatic entrance. You'll enter the restaurant across a new glass bridge that extends underneath frescos and stone columns that were constructed as part of the original building, the 1929 Medinah Athletic Club. The bridge leads to a glass-enclosed wine wall and into the dining rooms.
The sports theme actually works. Large, blown-up photos of basketball nets with quotes from Jordan and a wood art installment, featuring both the numbers 23 and 6 (the number of championships Jordan helped the Chicago Bulls win), are subtle and kind of lovely.
Cocktails are creative. Peter Vestinos of Sepia and Wirtz Beverage created the cocktail program, featuring drinks like the La Grande Dame (cognac, mint, lemon, and champagne) and the Blinker (rye, grapefruit, and raspberry).
Chef James O'Donnell cooks up nine perfect steaks. Options include 28-day dry-aged 20-oz. prime Kansas City strip, a 10-oz. center-cut filet, and MJ's Prime Delmonico, a 16-oz., 45-day dry-aged steak with balsalmic ginger-vinegar jus.
You can eat one of MJ's fave dishes. If shrimp and grits with smoked bacon, sweet onions, and lobster broth is good enough for Jordan, it's good enough for you.
Source: Michael Jordan Steak House