Mity Nice in Water Tower Chicago
Classic, Revisited: Mity Nice
Next
Sometimes we avoid restaurants in touristy spots like Water Tower Place because, well, they are just too touristy. On the other hand, it's easy to get so caught up with what's new that we forget about what might be tucked away on a path less traveled — even if it's one of the busiest shopping centers in the US. I met up with a friend for coffee at WTP and spotted Mity Nice (835 N. Michigan Ave., 312-335-4745). I hadn't been there since I was a kid when there was a "grill" at the end of the name. Curious (and hungry), I called my boyfriend to meet me for dinner.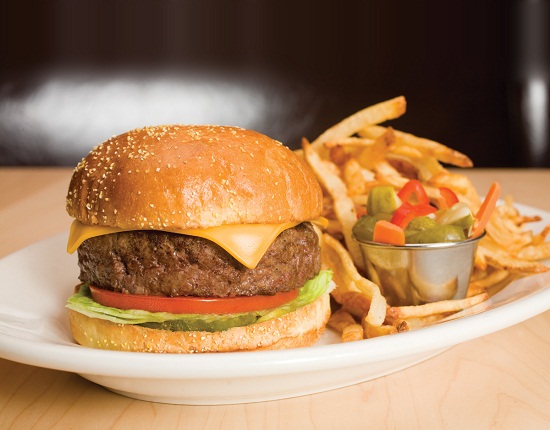 Mity Nice is a Lettuce Entertain You restaurant serving up American comfort food, so it's safe to say there's something for everyone on the menu. They closed shop for two weeks last Fall and reopened with a smaller dining room, wood-panel flooring, and chocolate-colored booths to create a homier vibe. We both ordered vodka sodas (it was a Friday, after all) and were given cheesy popovers in lieu of a bread basket. If you love bread (who doesn't?) but have a gluten intolerance, you'll be happy to know that those savory little suckers are gluten free — along with a separate menu dedicated to your restriction. Mity is known for its burgers, so my boyfriend took the caloric hit and ordered the cheeseburger ($12) with sweet potato fries, while I opted for the Acapulco salad ($12) with roasted chicken, black beans, roasted corn, tomatoes, fire-roasted poblano peppers, cheddar cheese, and crispy tortillas. They were super accommodating despite my When Harry Met Sally way of ordering: easy cheese and tortillas, dressing on the side.
We started out with the spicy shrimp and avocado cocktail ($11), which came out more like a ceviche. It was the perfect start to a meal, because unlike consuming something like the green chili chicken nachos (which I'm sure are delish), I still had room for my meal. Pet peeve: salads that are as large as the garnish off of a burger. This was not the case here. A bona fide salad addict, I'm happy to report that  it was fresh and satisfying — I actually couldn't finish it. My boyfriend's burger was like something out of an old-fashioned diner: no nonsense, no gimmicks. He finished every last bite — along with a few forkfuls of the to-die-for macaroni and cheese ($6). It's hypocritical to say we ended things with a "light" dessert, but compared to options like French silk pie or a homemade carrot cake cupcake, our butter brickle "iced" cream sundae with candied almonds and homemade butterscotch sauce ($4) was a (mity) nice ending to our meal.
Source: Mity Nice