New Boutique The Edit in Bucktown
Shop Watch: The Edit Opens in Bucktown
Next

Is it just me or is it hard to remember the last time an exciting new clothing boutique opened in Chicago? Yes, we've had our Topshop thrill and lots of other amazing chain stores are opening in the city this Fall, but there's nothing like a homegrown boutique to really get my inner shopper going, which is why I'm so excited about the opening of brand-spanking-new Bucktown shop The Edit (1917 N. Damen Ave., 773-252-3350).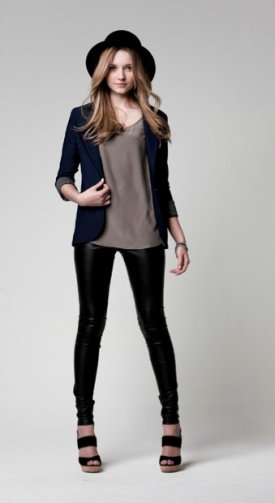 Not only are the shop's name and logo (shown above) super-chic, but so is the merchandise mix, a selection of well-edited (get it?) wardrobe staples and notice-me pieces that are chosen because they would make up the perfect wardrobe. Owner Morgan Gutterman, a Columbia College grad who's worked at some of Chicago's top boutiques, has curated a stylish selection of apparel and accessories including labels like Sass & Bide, Paper Crown (shown right), DL 1961, and Naven.
"The Edit will offer fashion forward pieces including cool, modern every day wear, chic pieces for evening and edgy, statement accessories. We will carry many exclusive lines to Chicago including a lot of my favorite designers from Australia. I want shoppers to love coming to The Edit to find new and exciting lines that are accessible," said Gutterman in a press release.
The super-chic merchandise is enhanced by the glam but cozy space, which features eclectic mirrors, maple and marble paneled walls, emerald green velvet chairs, snakeskin stools, chrome and brass accents, and custom artwork. Personal shopping, one-on-one styling, and private parties are also available at The Edit, so start your shopping now and get back to your boutique roots!
Source: The Edit