Oak Street Beach Restaurant
Restaurant Revamp: Oak Street Beach Opens Under New Management This Summer
Next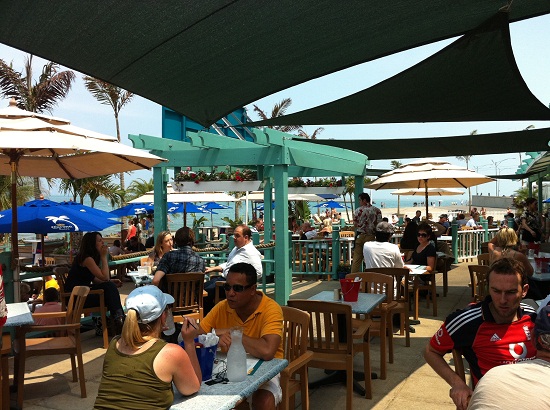 I visit the Oak Street Beachstro, positioned right on the sands of Oak Street beach, for the same reason as everyone else: the view. The food, as I recall, is anything but notable. As for my salad, I've seen larger garnishes off a burger, and my friend's hot dog rivaled the offerings at your junior high cafeteria. This Summer, you'll have two reasons to visit the dining destination: the usual view and the new ownership. Here are the deets:
The Name: Gone is the tongue-and-cheek "stro," and in comes the straightforward name of Oak Street Beach (1001 N. Lake Shore Dr., 312-988-4650).
The Management: With the Levy Restaurant Group (hello, Spiaggia!) now behind the dining concept, you know the food has to be good!
The Eats: While you find tradish Summer faves like burgers (including a yummy hand-cut ahi tuna version with guacamole and cilantro), new menu highlights include a seafood chowder (a new chowder each day), tacos, and entree-sized salads (think nicoise) that will actually satisfy! For dessert, quintessential Summer treats: ice cream, gelato, and Italian ice. You can even stop by for breakfast for items like an egg and bagel sammy, breakfast burrito, or a simple muffin or fruit plate.
The Bevs:  Margs, coladas, wines, brews, and bubbly. We figured that's all you need for your beachside sipping.
The Specials:  Monday (beer mussels), Tuesday (two orders of tacos for the price of one when you show up on your bike), Wednesday (special social media check-in days), Thursday (adult punch bowls), Friday (sunset happy hour with live music).
If you'd prefer to eat while on the run, there's a grab-and-go window where you can pick up your smoothies, sandwiches, or snacks and go elsewhere. Stay tuned, because coming in July, you'll be able to pick up everything from beach towels to lip balm to sunscreen!
Source: Oak Street Beach