Prasino Opens on Division Street in Wicker Park
Eco-Design Meets Sustainable Eating at Prasino
Next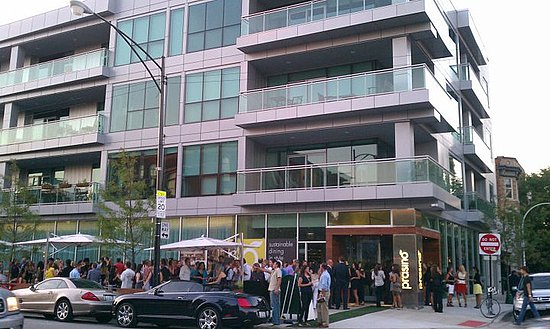 Walk into brand-new restaurant Prasino (1846 W. Division St., 312-878-1212), and you'll probably find it hard to believe that the sleek, totally urban Wicker Park spot is actually the restaurant's third location — and the first two are located in the 'burbs. Everything about Prasino (Greek for "green") screams city, from the 100-seat outdoor patio's low-slung couches to the industrial-chic light fixtures; polished concrete floors, and wood, chrome, and leather features. While the space is undoubtedly beautiful — and the perfect place to enjoy an agave-sweetened cocktail or a glass of biodynamic wine — Prasino is first and foremost a sustainably sourced restaurant, open for breakfast, lunch, and dinner, when I decided to make my first visit.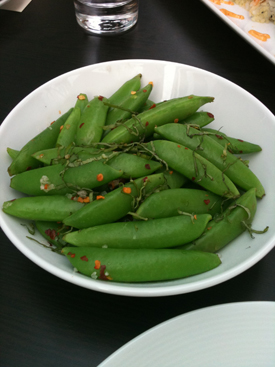 My hubby and I stopped by the day after the opening party, and while everything looked perfect, the service wasn't exactly the speediest, as to be expected with any new spot still working out its kinks. I ordered a glass of Francois Lurton Les Fumees Blanches (similar to a Sauvignon Blanc) while my husband tried the Green cocktail, Boyd & Blair vodka with rhubarb, basil, soda, and agave. Both were light and refreshing on a breezy Summer night.
We started our meal with the steamed peas tossed with sea salt, chili, basil (shown right), a dish that was pretty much as green as it gets with a nice dose of spice. We also tried one of Prasino's Loco Rolls, the Lava with spicy tuna and avocado topped with crab, tempura panko, spicy mayo, masago, and chives (shown below). The roll was generously sized, and the fish was super fresh, though I'm not sure it rivaled the creations at my favorite neighboring sushi spot, Bob San. To hear about the rest of my first Prasino experience,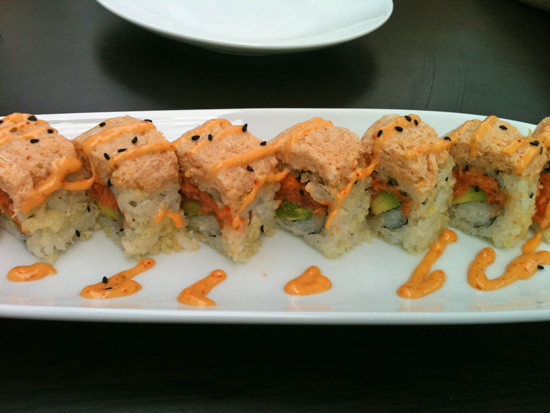 Next it was time for our entrees. I chose one of Prasino's signature dishes, the fish tacos with cabbage slaw, pico de gallo, avocado, and poblano cream. While super yummy, the tacos were a bit hard to eat since the corn tortillas kept falling apart. I ended up using a knife and fork to finish the dish, which came with a nice side of fresh pasta salad (hand-cut potato chips and mixed greens were two other options). My husband went with another signature dish, the braised beef short ribs with cauliflower cheddar gratin, greens, and a truffle mushroom cabernet sauce. While the dish is probably better suited for Fall or Winter dining, it was undoubtedly a hit. The short ribs were incredibly tender and the cauliflower gratin was a perfect accompaniment.
My first Prasino experience definitely made me excited about the spot, which I can't wait to try at breakfast time. The patio is destined to be a hit on warm nights (arrive early for a seat on the oversize couch), and I'm sure the service kinks will soon be worked out. One word of warning: the high style also comes with higher priced food and drinks, so plan accordingly. Sometimes a sustainable dining experience takes little more green.