Public House Opens Today
Tonight's the (Opening) Night: Public House
Next
If you're a fan of beer, you're going to love Public House (400 N. State St., 312-265-1240). From Twilight Traffic Control, also the owners of ever-popular Bull & Bear, Public House is destined to become one of the hottest spots in town — especially for brew fans. Public House, which is twice as large as its sister spot, has more than 103 beer options.
The table taps that are so popular at Bull & Bear get an upgrade here. Twelve tables will feature three taps each, two pouring the beers of your choice and one pouring liquor options including Jameson, Patron, and Absolut Vodka, a first for a Chicago bar. (Be sure to reserve your tap-outfitted table in advance.) Public House also introduces six wall taps for private events and parties. Beer also makes its mark on the menu, which features a tempting selection of upscale bar fare.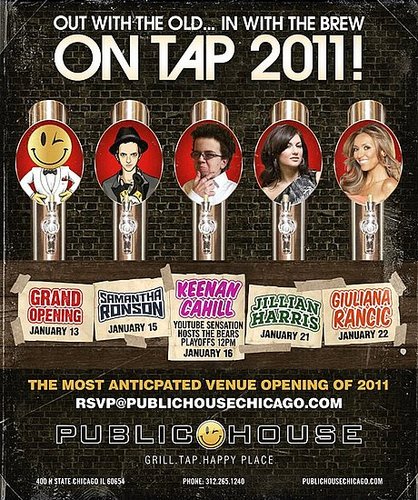 The three mussel bowls, design-your-own mac and cheese, and the lobster pot pie all sound like instant best sellers, but the extensive menu includes a lot of items I can't wait to try. Sweet potato tater tots? Mini Kobe corn dogs? Tiger shrimp burger? Yes, yes, and yes. Even better, renowned pastry chef Mindy Segal of Hot Chocolate created the dessert menu, consisting of a chocolate-stout float, cast-iron bread pudding, and, my fave, a creation called waffles and bananas, which includes waffle cookies, smoked banana ice cream, toasted marshmallow, and milk chocolate hot fudge.
A concert-ready sound system, a smokeless fireplace, loads of TVs, and an HD video wall only add to the allure of Public House, and this week, to celebrate the opening, the place is going all out, with events featuring DJ Samantha Ronson (Jan. 15) and local celebs Jillian Harris (Jan. 21) and Giuliana Rancic (Jan. 22). Keep an eye out for more news from Public House; we're hosting a can't-miss party with them in a couple of short weeks! More info to come soon.
For now: Here's what you need to know about Public House, by the numbers:
10,000: square feet of space
103: types of beer in house
27: Plasma TVs
25: beers on tap
12: tap tables
6: wall taps
6: beer sommeliers on staff
1: 84-inch HD video wall
Source: Public House