Public House and PopSugar City Event on Feb. 16
Grab Your Beer-Loving Buds and Join Us at Public House This Week!
Next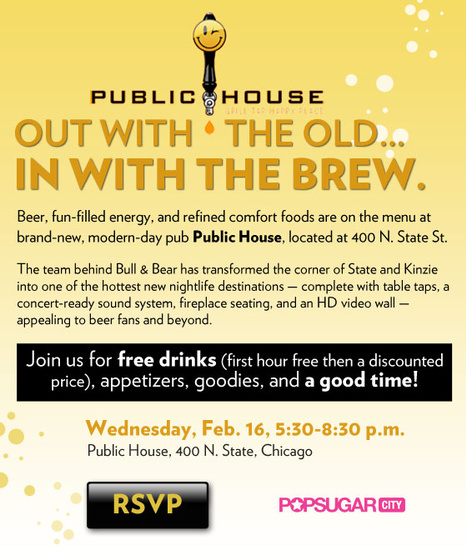 Our exclusive party at Public House (400 N. State St., 312-265-1240) is on for Wednesday, Feb. 16, from 5:30 to 8:30 p.m. Public House's bar is open for the first hour and discounted for the next two, and they'll be passing out some delicious appetizers. Some of our other favorite businesses around town will also be joining in, too. Chicago Sake will offer samples. Yumcakes will pass out mini cupcakes and offer discounted pricing. Barre Bee Fit will be handing out logo tanks and will raffle off a class package. And Dana Hotel and Spa will be doing minitreatments and handing out giveaways. Other vendors on site will include MaZi Dance Fitness Centre and Karyn's on Green.
Don't miss this must-attend event. RSVP now!