Restaurant Openings in Chicago
New to Chew: Hot New Restaurant Openings in Town
Next
Eating out is not a seasonal activity in Chicago. Good thing there are always new places opening up for you to expand your palate. Here's the latest.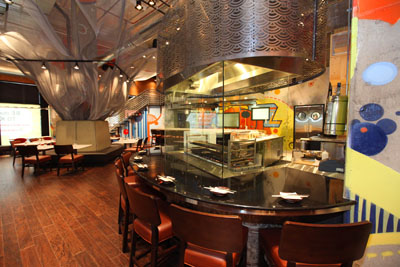 You're planning a girl's night out, and sushi is a part of the equation — except for your one friend who won't go near it (there's one in every crowd.) Enter Union Sushi + Barbecue Bar (230 W. Erie St., 312-662-4888), a hot new resto (pictured) that opened yesterday in River North. If you want the detailed scoop on the dynamic duo behind Union, its delish food, and hot decor, here are all the mouth-watering details.
Who doesn't love a grilled cheese? Get your fix at Cheesie's Pub and Grub (958 W. Belmont Ave., 773-388-1574), where you can sink your teeth into more than eight types of gooey sammies (including a DIY option) like the mac: American cheese, Merkt's cheese, homemade macaroni and cheese, on Texas toast — bye, bye bikini! Dipping sauces and waffle fries complete the decadent dining experience. The official opening is today — Thursday, May 12, at 4 p.m.!
Leave it to nightlife guru Dion Antic to open the only late-night dining destination in the West Loop. Porkchop (941 W. Randolph St., 312-733-9333) serves the obvious (grilled over natural charcoal embedded with whisky barrel chips, no less), along with sandwiches like the fried-green tomato BLT for those with "lighter" appetites. Snag a spot on the 50-seat patio and when the night is not too late for whiskey, try one of more than 40 varieties served neat with a personal ice bucket and H20.
While you'll crave a margarita, Danzon Restaurante (2715 N. Milwaukee Ave., 773-698-6640) is BYOB. The man behind the menu is Geno Bahena, who has established a reputation with foodies from his cuisine at Real Tenochtitlan, Los Moles, Delicioso & Sabroso, Chilpancingo, and Ixcapuzalco. This time around, he's whipping up comfort food from Peru, Spain, and Mexico, many of which are regional specialties. Upon walking in the colorful Logan Square restaurant, you'll smell the mesquite wood-burning grill cooking up dishes like Cuban ropa vieja — though be sure to save room for the chocolate tamale for dessert.
We love Melanthios Greek Char House (3116 N. Broadway, 773-360-8572), so its new counter-service venture, Crazy Chickens (604 W. Barry Ave., 773-661-9997), has us going a bit nuts, too. Jumping on the healthy and organic bandwagon, you can dive into the salad bar or go for something a bit more substantial like a full rotisserie chicken (100-percent free range) prepared with one of five different spice varieties (including plain), a wrap, or sandwiches like a Greek-style gyros.
Source: Union Sushi + Barbecue Bar