Rustic House Chicago
Hot Plate: Rustic House Opens
Next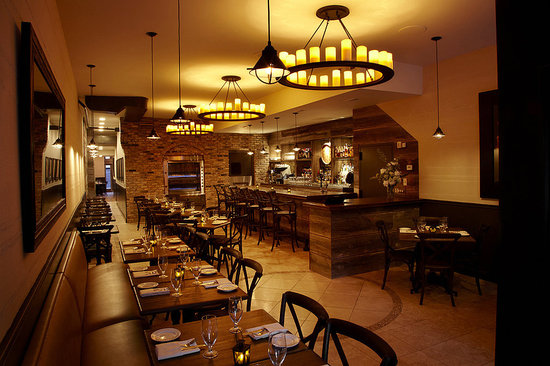 There's a lot of buzz about farm-to-table restos lately, and I say fresh and sustainable ingreds should be a trend that never goes out of vogue. The newest one on the roster: Rustic House (1967 N. Halsted St., 312-929-3227). Here's the scoop:
The Talent: Love Gemini Bistro (2075 N. Lincoln Ave., 773-525-2522)? I do, too, so I was thrilled to learn that partners Jason Paskewitz (executive chef) and Ryan O'Donnell (chef turned managerial/operational whiz) are the talent behind Rustic House. The dynamic duo quickly placed Gemini Bistro on Chicago's culinary map with French- and Mediterranean-influenced American cuisine, which has received numerous accolades from the Chicago Tribune, Food Network, and others. With that being said, we can expect only good things.
The Food: I think those rotisserie chickens you see while walking the streets of Paris are one of the true gems in a city riddled with epicurean delights, so I can't wait to sink my teeth into one of the daily rotisserie specials ($21) featuring free-range, organic chix prepared on a real imported Rotisol French rotisserie. As for things local, Gepperth's Meat Market will provide meats while Paskewitz will source the Green City Market and local farms for fresh, sustainable produce. Standouts that get our appetites rolling (aside from the chicken) are duck confit ravioli ($20), pancetta-wrapped monkfish ($24), and braised lamb shoulder ($25). For those looking for a lighter bite and a cocktail or two, bar snacks ($4 each) like duck fat marcona almonds and chicken liver mousse prove that even small things can pack a delicious, caloric punch.
The Libations: Look for Midwestern beers (sweet!), more than 60 selections of wine (30 by the glass) and signature cocktails like the Shirley Templeton with Templeton rye, ginger ale, cherry juice ($7). Being an adult was never so much fun.
The Space: The restaurant seats 50 guests in the main dining room; eight at the oh-so-intimate bar; 28 in the brighter, back dining room; and about 24 in the wine cellar. Talk about farm to table, the inviting space features weathered barnyard walls, burlap wall treatments, Travertine tiled floors, and farm-themed artwork by local artists. The environs are already warm and inviting, but we can't wait to sit next to the large fireplace come Winter.