Rustic Italian Restaurant Antico in Chicago's Bucktown
Eat This Now! Rustic Italian Fare at Bucktown's Antico
Next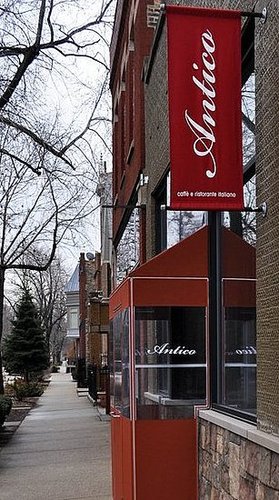 A couple of weeks ago, I told you about Antico (1946 N. Leavitt St., 773-489-4895), a unique neighborhood restaurant that offers coffee, pastries, and truffled eggs from 7 a.m. to 1 p.m. and switches to a rustic Italian spot in the evenings. I recently had my first experience at charming, cozy restaurant, and I'm so happy that Bucktown has this new addition.
We arrived around 6:30 p.m. on a Wednesday night and were seated right away in the small restaurant, which holds around 30 people. While only a few parties were there when we arrived, by the time we left around 8 p.m., the place was completely full and parties were waiting for our seats. While waiting for a liquor license, Antico is BYOB, and we brought a nice bottle of red that was quickly opened and served to us along with some focaccia and olive oil and the bowl of olives we requested, a mix of black and green, which set the tone for the rustic, heartily portioned dinner that followed.
Because we wanted to try something from every one of the menu sections — antipasti, primi, and secondi — we decided to share three dishes, which turned out to be the perfect amount of food for two hungry people. Our first choice was the made-in-house sausage with braised cabbage and mostardo, a mix of whole grain mustard with dried cranberries and apricots. The savory sausage paired perfectly with the cabbage and the sweet and tangy mustard mix.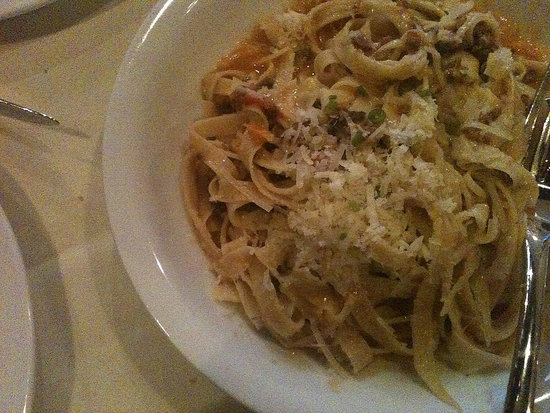 Next up was the tagliatelle bolognese (shown above). All of Antico's pastas are made daily in house, and this dish — straightforward but supremely comforting — reminded me of the pasta I loved so much during my trip to Italy a few years ago. Authentic and just simply delicious. The portion wasn't huge, but that's a benefit for me, as a huge plate of pasta always makes me feel like I need to follow dinner with a trip to the gym.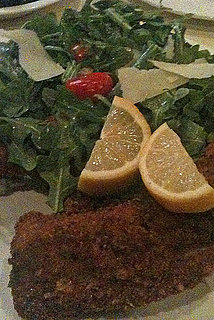 Not that this dinner was exactly healthy, especially when you consider our entree: pounded, breaded bone-in veal. I've been having some serious cravings for fried meats (thanks pregnancy!), and the veal totally filled my need for breaded protein with a dash of grease. This plate was huge (see below) — totally big enough to share — and topped with fresh arugula, lemon, a few cherry tomatoes, and some shaved parmesan. While I was totally satisfied with our decision, there were many other appealing dishes on the menu. Amish chicken with sauteed polenta and market greens, a bone-in rib eye with bone marrow, and braised short ribs with saffron polenta and horseradish gremolata all sounded totally drool-worthy — and from checking out our neighbors' dishes, they too were big enough to feed more than one.
Antico isn't trying to break boundaries or introduce a new style of cuisine. Instead it provides some Old World-style, comforting food done extremely well in a neighborhood setting that will keep you coming back for more. Places like Antico are one of the reasons I love Chicago; how great is it that you can find such wonderful food around every corner?