Salon Owner and Harpo Stylist George Gonzalez
A Day in the Life: Salon Owner George Gonzalez Takes Care of the Locks at Harpo Studio
Next
Welcome back A Day in the Life. Last week, we took you through a day with hospitality queen Jodi Fyfe and her latest venture, Paramount Events. Today, we're going behind the scenes with Spa at Harpo stylist and salon owner George Gonzalez.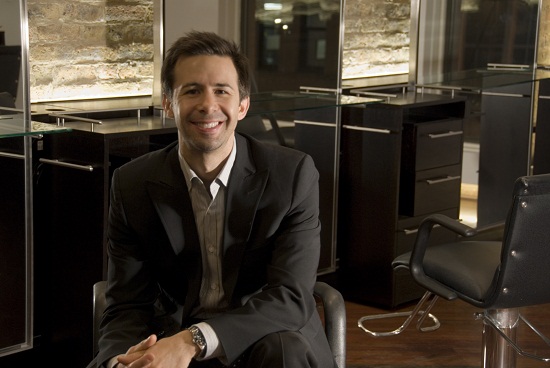 Whether you started watching The Oprah Winfrey Show when she was in shoulder-pad mode or her "favorite things" craze, it has seen its fair share of changes over the years. Her final season gave you a glimpse of what it's like behind the scenes, something very familiar George Gonzalez. A stylist for 19 years, his colorful career has included a stint cutting the hair of top golfers (and their wives) with the PGA before opening George — The Salon (23 W. Hubbard St., 312-923-9444) in River North three years ago. Sure, he's crazy busy, but when you get an opportunity to freelance as a stylist at the Spa at Harpo, you run with it like a pair of tickets to Oprah's final show.
Along with the Harpo staff, Gonzalez has styled several celebrity guests, and his salon team has played an integral role in several of the makeover segments. But the opportunity to work for one of the most influential women in the world hasn't gone to his head. Remaining committed to his core values, George is developing a hair product line that will benefit organizations helping whose lives have been affected by domestic violence. How does he keep it all in check? Morning meditation, a healthy diet, and a healthy relationship with his wife. < p>



Up at 6 a.m.


Chat with my wife Megan about the day.


Make a protein shake and out the door.


Work out with Cortez from Core Fitness (1030 W. North Ave. 773-908-7429); home by 7:30am.


Kiss Megan and catch up with her while she's getting ready for work.


Practice meditation for 10 minutes.


Time for breakfast. I make four egg whites, one yolk, and a baked potato from microwave along with orange juice.


Shower, get dressed, do hair. Out the door.


Arrive at Spa at Harpo Studios 9:30 a.m. Cut and style hair for producers and other staff. Talk about their future plans and upcoming shows.


Get lunch at Harpo cafeteria around 12:30 p.m.


Talk to Harpo spa director about future business related ideas.


Cut more hair. Finish around 4 p.m.


Go to George — The Salon and spend time with colorists and stylists talking about latest hair trends and any work-related issues.


Meeting with Nicole, salon manager.


Check and respond to daily emails.


Head home at 8:30 p.m. Pick up Megan for a late dinner at Gilt Bar (230 W. Kinzie St., 312-464-9544) and talk to her about my day.


Go home. Work on marketing strategies, double check schedule for work tomorrow on faithful Macbook Pro.


Wash up, jump in bed, whisper sweet things to my wife. Roll over to my new body pillow and I'm off to sleep.