Slurping Turtle Chicago
Tonight's the (Opening) Night: Takashi Yagihashi's Slurping Turtle (What to Eat!)
Next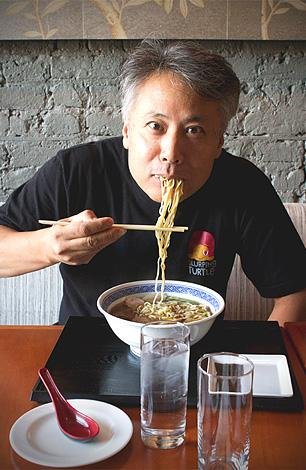 The temps are only going to get chillier this week, so it's the perfect opportunity to slurp (yes, that's considered proper Japanese etiquette) up a big bowl of ramen at Takashi Yagihashi's Slurping Turtle (116 W. Hubbard St., 312-464-0644) — which opens its doors today!
Designed by Francois Geneve (Takashi, Green Zebra, Quince) the 87-seat space boasts steel and exposed beams creating a contemporary yet comfortable vibe. The menu pays homage to chef Yagihashi's childhood experiences in Japan, and the turtle component symbolizes longevity. After perusing the eats offered, we sure hope Slurping Turtle is here to stay. But the menu isn't just about noodles. Here's a rundown:
Noodles: Starting with the most obvious, there are nine noodle bowls offered ($13-$14) with the option of extra toppings ($1-$3) such as fish cake, pork shoulder, and marinated egg. Standouts include the

slurping noodle (

rice noodle, wheat-free soy, Napa cabbage, black tiger shrimp, and cilantro) tan tan men (whole-wheat egg noodles, spicy miso, ground pork, and spicy homemade sausage), and shoyu ramen (egg noodle, classic Tokyo-style soy broth, braised pork shoulder, naruto, and bamboo shoots).
Dumplings and Hot Tapas: There are only three dumplings to choose from (steamed pork or shrimp shumai and jumbo gyoza), but one could make a meal of nine small-plate "tapas"-style dishes when not exhibiting a little self-control. One's guaranteed to rack up calories like at a holiday feast. Indulge in small plates such as the duck fat-fried chicken, lobster corn dogs, and crispy curry croquettes.
Sashimi Bar: Carb-loaded noodle bowls are balanced out by the sashimi bar — a Japanese raw bar of sorts. Along with sushi, there are seared, marinated, and other raw preparations such as tartare, ceviche, and various seafood-laden salads.
Bincho Grill: Those who go for a little of this and a little of that will love the fact that the items cooked on the bincho (Japanese-style) grill can be ordered by the piece for just $3 to $12 (the foie gras is priced the highest). There are over 30 items to choose from, ranging from every part of the chicken imaginable (including gizzards), seafood, duck, steak, pork, and vegetarian options.
Sweet Endings: How fun does a green-tea cream puff sound? For those looking for just one bite, there are eight varieties of macaroons with Japanese-inspired fillings like raspberry wasabi, ginger-kumquat, and yuzu. Also intriguing: the Japanese sundae made with chilled red bean, vanilla ice cream, and agar-agar cubes.
Source: Slurping Turtle