Stylist Libby Salerno is a PopSugar City Girl
PopSugar City Girl: Stylist Libby Salerno
Next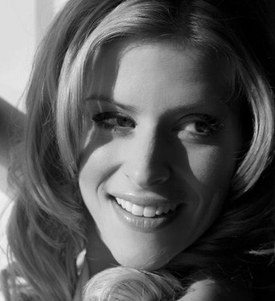 Stylist Libby Salerno fills a specific fashion niche, dressing women who are going through major changes — whether they involve a wedding, baby, new gig, or new bod after weight loss (or a little cosmetic enhancement). "Truly, my entire life has been a series of events that have led me to this place," Salerno says of her styling career. "I had dreams of becoming a designer when I was a young girl. After attending business school and design school, I started a line of women's dresses that focused on styles for all body types . . . but I found that in addition to designing, I had a passion for styling my clients. I realized there is an incredible need for direction and support during life's big moments." The 32-year-old Omaha native has lived in Chicago since 2004 and has watched the city become even more stylish. But she has a couple major style don'ts for local ladies: "I see women in Chicago wearing '80s-style, flat-heeled boots with a semi-pointed toe. Retire them. I also love a skinny jean, but only on the right body type. If the trend doesn't work for your body, then it's not going to make you look your best." Keep reading for Salerno's must haves for your Spring wardrobe and a list of her favorite Chicago things.
Libby's Spring Style Must Haves:
White blazer: Perhaps with some fun detail-work, it freshens up your look and takes you from Winter to Summer nicely.
Rose gold jewelry: It's so feminine and pretty. I wear my rose gold Michael Kors watch with rose gold tassel earrings, and they really pop. I also like mixing metals, and rose gold looks beautiful when paired with white gold.
Flared jeans: It's a fun silhouette, and I'm seeing styles with a high-rise waist and a super-skinny cut throughout the thighs. It's just something different to add to your denim collection.
Jumpsuits: The pants and the shorts versions are both great, but you just have to be careful that the torso length works for you. They may also require some hemming.
Maxi dresses: I am so excited for better weather so I can break out the maxi dresses. They are back in a big way this season.
Libby's Chicago Favorites:
Shops: I love the pretty atmosphere, nice people, and selection of fashion-forward inventory at Sarca (710 N. Wabash Ave., 312-255-0900) and Perchance (3512 N. Southport Ave., 773-244-1300). For larger chains and brands, I love Michael Kors, Intermix, Ted Baker, and Tory Burch, where it's really hard to go wrong. When you're looking for something trendy and don't want to spend a ton of money, try Akira for clothes and Aldo for shoes.
Workout: I have been working out religiously since I was 18 and started college. I was so scared of gaining the freshman 15 that I just made exercise part of my routine. I go to Fitness Formula Clubs' Halsted Street location for my regular lifting, cardio, and Pilates. I was also just introduced to Yoga Sculpt at CorePower Yoga, and I am a big fan – it's the best sweat you'll ever get, and you just feel great afterward. It's a great supplement to my normal routine.
Salon: By last count on Yelp, Chicago has over 2,500 salons, which can make the task of finding a good salon daunting. Four options, which provide great service, atmosphere, and plenty of product options, include: Salon Buzz, Colette Salon & Spa on Walton, Robert Jeffrey Salon on Halsted, and Siren Salon on Lincoln.
Restaurants and dish: I am a dessert girl, and that includes all forms of chocolate and sweets. But I crave two things; I dream about them. Tavern on Rush's (1031 N. Rush St., 312-664-9600) seven-layer chocolate cake, and D'Amato Bakery's cannolis (1124 W. Grand Ave., 312-733-5456). They are both like pieces of heaven. You also can't go wrong at any of Rick Bayless's establishments: XOCO, Frontera Grill, and Topolobampo.
Bar/lounge: I have two favorites, by far. One is NoMI's rooftop patio in the Summer, for a glass of champagne and the amazing sushi. In the Winter, I love Rebar at the Trump.
Romantic activity: I'm an old-fashioned, simple girl. I love to go to a nice restaurant or stay in and order food with my hubby. Our first date was in the Summer of 2005, and he took me to SushiSamba, where I proceeded to drop sushi on my foot (such a klutz)!
Spot in Chicago: I love taking our Golden Retriever Lou to the dog beach at Montrose or the smaller one closer to Addison/Irving. It makes me happy watching him have such a great time. And I love "patio-ing"! It's my favorite Summer verb! Love the patio at Tavern on Rush: it's some of the best people-watching. Plus, you get some good celeb-sightings there. I've personally seen Queen Latifah, Gwyneth Paltrow, Chris Martin, and Apple, John Malkovich, Keanu Reeves, and more (OK, I also worked there briefly when I first moved here, but I'm just saying . . .)
Chicago attraction: If you're visiting Chicago, you have to go to the Signature Room at the 95th (875 N. Michigan Ave., 312-787-9596) at night and have a cocktail overlooking the city. It offers such amazing views and you can really take in the beauty of this city.