Three Workout Events in Chicago Offer Triathalon and Marathon Classes
Bring Out Your Inner Badass For a Good Cause at Three Fitness Events
Next
Working out always makes you feel great, so shouldn't a marathon (or, in one case, triathlon) workout make you feel even better? Sign up for one of the three extreme workout sessions below to raise your endorphins while raising money for a charitable cause.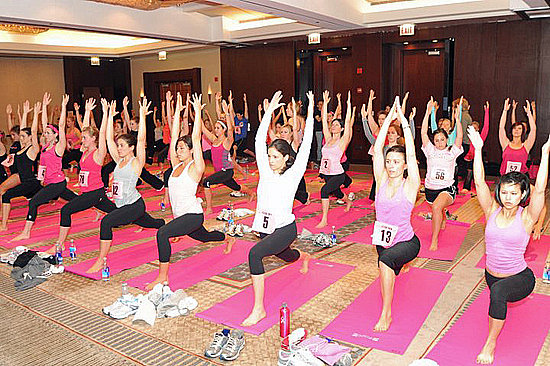 This Saturday, March 19, Equinox is holding an indoor triathlon around the country and locally at the Gold Coast Equinox (900 N. Michigan Ave., 312-254-2500). Starting between 3 and 4:45 p.m., athletes will complete a 500-yard swim in the club's lap pool, a 10-mile ride on a stationary bike, and a 3.1-mile run on the treadmill. The top 75 finishers will secure one of the 2,000 slots to compete at the Escape From Alcatraz Triathlon in San Francisco on June 5, 2011. Registration is $25, and the full amount will benefit The Heroes Project, a charity started by Equinox member Tim Wayne Medvitz to help injured soldiers rehabilitate their bodies and reinvigorate their spirits by training to climb the world's most spectacular mountains.
Fit Fest (last year's event is shown above; I'm number 82 in the front row) is coming back to Chicago on Sunday, April 17, from 10 a.m. to 5 p.m. Hosted by local charity Bright Pink, the event is a fitness marathon at the Park Hyatt Chicago (800 N. Michigan Ave.), where nearly 200 participants will complete six hours of fitness classes including Tabata, yoga, kickboxing, and Core Fusion. Between classes, you'll fuel up on healthy refreshments and relax with massages and manicures. Registration is free with a commitment to raise $500 for individuals and $1800 for a team of four athletes, all of which benefits Bright Pink's mission to empower high-risk women to take control of their breast and ovarian health. All participants receive a VIP gift bag, including ZoN Fitness Bright Pink merchandise (I still use the awesome socks and yoga mat I received last year)!
Tickets just went on sale for the annual Self Magazine Workout In the Park, a day of workouts, beauty, fit fashions, and gourmet goodies. This year's event will take place on May 21 from 11 a.m. to 3 p.m. (rain or shine) in Grant Park's Butler Field (350 E. Monroe St.) Special guest Alison Sweeney, host of The Biggest Loser and author of The Mommy Diet, will be on hand to share her tips for eating well and making exercise fun. A portion of the ticket proceeds ($20 each) will benefit Cancer and Careers and Susan G. Komen for the Cure.
Source: Fit Fest