Weekend Events in Chicago 2011-04-08 06:01:00
Weekend Tips: Cocktails For Japan, Old-School Vinyl, and an Active Brunch
Next
While I won't be telling you about Baconfest at the UIC Forum (It's sold out!), there are other ways to relax, rewind, and indulge this weekend.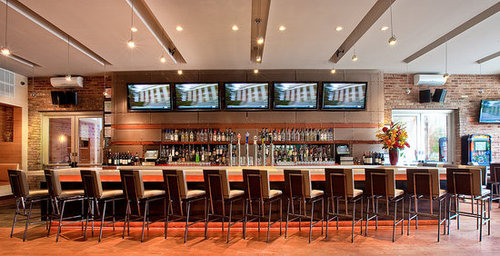 Have yet to do your part to help Japan? No worries, the oh-so-popular Market Bar (1113 W. Randolph St., 312-929-4787) in the West Loop (pictured above) is hosting a cocktail benefit to aid disaster relief on Saturday, April 9, from 8 to 10 p.m. Your $30 donation gets you a complimentary raffle ticket (I'm sure someone would love an autographed baseball), passed apps, and an open bar. One hundred percent of the proceeds will go directly to the Red Cross.
I still think my parents' record collection is cool — or shall I say groovy? — and apparently, there are a lot people who agree that vinyl rules. The CHIRP Record Fair is taking place this Saturday and Sunday (April 9 from 8 a.m. to 5 p.m. and April 10 from 10 a.m. to 5 p.m.) at Journeyman Plumbers Hall (1340 W. Washington Blvd., 312-421-1010), also in the West Loop, so you can kill two events with one stone! Going on its ninth year, this fun (and different) event showcases tons of vinyl from several vendors (plus DVDs and CDs for the more modern folk), as well as posters, artwork, and other musical paraphernalia. When you get tired of browsing, cool your heels and listen to one of the live bands playing throughout the day.
Who cares if you'll be gorging yourself at Easter Brunch in a couple of weeks — you have to eat, right? Deca restaurant in the Ritz-Carlton (160 E. Pearson St., 312-266-1000) is hosting a masters brunch in conjunction with the 2011 Masters Golf Tournament taking place on Sunday, April 10: think putting green panna cottas, out of bounds omelettes, Watson's waffles. Golf gurus (or putt-putt amateurs) can enjoy a little green with their eggs by watching the tournament on one of the large flat-screen televisions set up for the occasion. Feeling inspired by all those swinging clubs? Work off your brunch with a rousing game of Wii golf, or take things outdoors with with a golf pro from Golfsmith. The brunch runs from 11:30 a.m. to 2:30 p.m. (the last seating) and costs $69 per adult (including a glass of champagne, mimosa, or bloody mary).
Have a good weekend everyone!
Source: Market Bar