Yuzu Sushi and Robata Grill Chicago
Hot Plate: Yuzu Sushi and Robata Grill Opens Today!
Next
The recent opening of restaurants like Union and Tokio Pub prove that the sushi/robata grill concept is on the rise. With that being said, Yuzu Sushi and Robata Grill (1715 W. Chicago Ave., 312-666-4100) in the Ukranian Village is the newest kid on campus, and there's more than one reason why we're choosing to make resos immediately.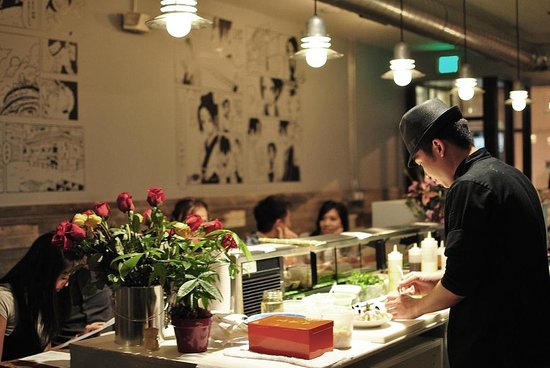 The Chef: Yut Vong was a former chef at Sushi Wabi (a Chicago fave) for the past seven years. He's transferred his talent over to Yuzu, creating a variety of mouth-watering preparations ranging from innovative sushi rolls like the pier 99 (soft shell crab, roasted coconut, unagi, marinated crab meat, avocado, cucumber, cream cheese, spicy mayo, sweet soy sauce), noodle bowls, teriyaki preparations, and appetizer-sized portions of robata items on skewers. We can't wait to try the asparagus bacon and chicken and green onions brushed with miso sauce.
The Space: The space only seats 30, which is fine by us, because we'll have a better view of all the action taking place in the open kitchen.
The Fam: Vong pulled his family into the mix — but not for the front of the house or the back of the house. His two cousins played an integral role in the aesthetic of the restaurant. His cousin Anna designed the space, using reclaimed wood accents from a 150-year-old barn in Illinois while his other cousin Jim Polpiboon of Ramen Studio provided the super-cool Japanese comic book sketches on the wall.
The Bennies: Don't let the sleek interior and fedora-clad chefs fool you; this place is a real bargain. Need proof? Robata items range from $1.50 to $2.00, sushi $3 to $12 (slightly more for large platters), apps $1.50 to $7.00, and entrees $8 to $12. You won't leave hungry either, as the portions are as ample as your wallet will be when you leave. And to top it all off, it's BYOB!
Source: Yuzu Sushi and Robata Grill